Thursday Romance Reads To Devour 4/11

Praying for Rain
BB Easton
$3.99

"None of this matters, and we're all going to die."
With only three days left until the predicted apocalypse, the small town of Franklin Springs, Georgia, has become a wasteland of abandoned cars, abandoned homes, abandoned businesses, and abandoned people. People like Rainbow Williams.
Rain isn't afraid of dying. In fact, she's looking forward to it. If she can just outrun her pain until April 23, she'll never have to feel it at all.
Wes Parker has survived every horrible thing this life has thrown at him with nothing more than his resourcefulness and disarming good looks. Why should the end of the world be any different? All he needs are some basic supplies, shelter, and a sucker willing to help him out, which is exactly what he finds when he returns to his hometown of Franklin Springs.
As society crumbles, dangers mount, and secrets refuse to stay buried, two lost souls are thrust together in a twist of fate—one who will do anything to survive and one who can't wait to die.
Perhaps, together, they can learn how to live.
Before their time runs out.
The Girl Who Knew Da Vinci
Belle Ami
$0.99

In the spirit of The Da Vinci Code by Dan Brown comes a suspense thriller that unravels an unforgettable mystery…The Girl Who Knew Da Vinci by Belle Ami.
One painting, three lifetimes, will her visions lead her to the truth?
Art historian Angela Renatus is haunted by dreams of Leonardo da Vinci and a mysterious painting of Giuliano Medici and his mistress Fioretta Gorini. A painting that, as far as the world knows, doesn't exist. Compelled by her visions, Angela is determined to find out the truth.
When Angela is contacted by art detective Alex Caine, she's shocked to learn that he too is seeking the same painting. Alex's client, a wealthy German financier, is determined to clear the name of his late uncle, Gerard Jaeger, an art historian, who went missing in Florence, during World War II. In letters written before his disappearance, the historian describes his love affair with a beautiful young Italian woman named Sophia Caro and the discovery of an extraordinary painting by the great master himself—a painting depicting Giuliano and Fioretta.
Angela and art detective, Alex Caine journey to Florence in search of the priceless treasure. Is it a lost da Vinci, potentially worth hundreds of millions of dollars, or a wild goose chase that will only lead to a dead end? But someone else is searching for the elusive painting—Alberto Scordato is a powerful man in the art world and a sociopath who will stop at nothing to get what he wants, even murder. Scordato knows something about Angela that even she doesn't know, something that could threaten both Angela and Alex's lives, forcing them into the crosshairs of fate.
Boss Daddy
Annie J. Rose
$0.99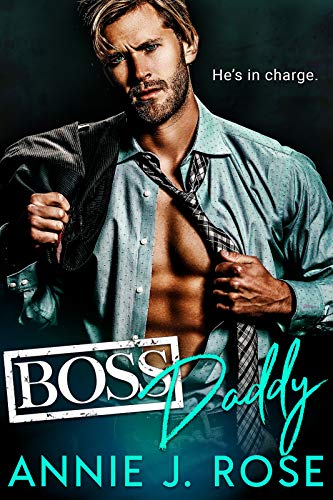 We shared one wild, unforgettable night.
Colt was my secret crush.
I was trying to get back at my ex.
Pregnant and scared, I ran away.
Six years later, I'm desperate for a job and Colt is the CEO.
Passion sparks between us again.
I can't tell him my secret.
Our son, sick, is in need of a transplant.
Why do I run to Colt?
Why is he the only one who can comfort me and make me weak with desire?
He won't let me go, no matter how I try to stay away.
Colt's tongue is hot in my mouth, his hands all over me
When I get the emergency call about my son, our son.
Do I tell Colt my secret just when I might lose everything?