Win A Paperback Copy of HIGH RISK + A $10 Amazon Gift Card by Siena Noble!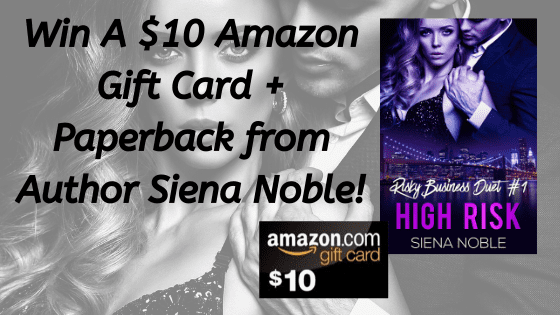 Click Here To Enter The Giveaway!
HIGH RISK
(Risky Business Duet 1)
by Siena Noble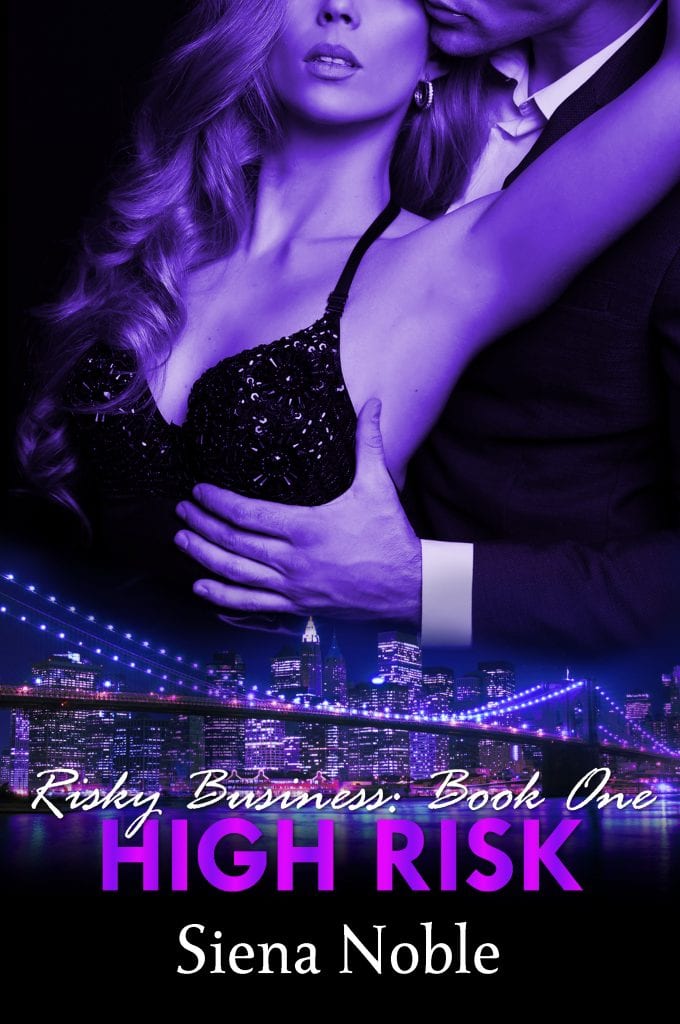 Six years ago, Kiera Anders resolved to put her painful past behind her, seeking a fresh start in New York. She didn't count on her past finding her again in the form Caleb Martin – her brother's former best friend and her first love. Now with millions to his name, a playboy reputation, and a closet full of skeletons, the cold and distant "Mr. Martin" is so different from the sweet Caleb she once knew.

But some things are hard to forget, and the passion that still sizzles between them can't be denied. No other man could give Kiera that sweet taste of dominance and submission… and now that Caleb's offering it to her again, how can she refuse? But things aren't as simple as they used to be, with Kiera's career on the line, a mountain of secrets between them, and Caleb's sordid past threatening to catch up to him. It's dangerous to mix business with pleasure… but it is worth the risk?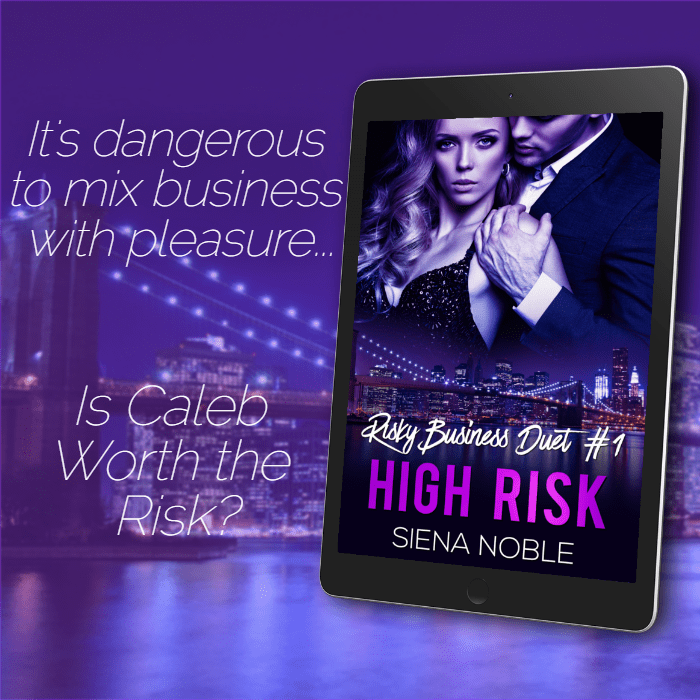 Excerpt from High Risk:
I didn't even make it two steps before I saw Preston strutting out of the Emerald Ballroom. Shit. Dealing with him was the absolute last thing I wanted at any time, but even less so just then. I figured I had a hot second before he turned his head in my direction and came marching toward me. I whipped around, debating where to go, when my eyes landed on Caleb again. Heart pounding, I hurried straight to him and grasped his shoulders.
"Kiss me," I whispered frantically.
His eyes widened, then narrowed. "Why?" I couldn't tell if it was more of a question or a warning. My heart jumped into my throat as he put his hands around my wrists, but he made no move to pull me away from him.
"I'll explain later! Please, just—"
My words were cut off as his mouth crashed down on mine. I'd been the one who'd begged for this, and even still it was all I could do not to go totally limp as the hunger of his kiss took my breath away. But within seconds I was returning it with equal ravenousness. There had been a fire kindling inside of me all night, and this was just the spark I'd needed for it to become a full-blown inferno. My tiny purse fell to the floor, freeing both my hands to fiercely grip his hair. His tongue teased my lips and they parted for him willingly—a silent plea for him to possess me and devour me the way he'd once had.
I was only dimly aware of being pulled into a small alcove. Then my back was against the wall, Caleb's body hot and hard as it pressed against mine. His hands were everywhere; caressing my face, sliding down my neck and over my breast, gripping my thigh as he brought my leg up to wrap around his waist. Sweet fucking heaven, how I'd missed the all-consuming way he kissed. How had I survived without it for all these years?
"Fuck," Caleb gasped as he wrenched his mouth away from mine, panting just as hard as I was. "Jesus…"
Gingerly, I lowered my leg, but my shift in position only brought the hardness of his cock between my spread legs to my attention. My hips seemed to have a mind of their own as they rocked against him, and I barely bit back a whimper at his answering groan.
"Jesus," he breathed again. "I want you." His lips pressed feverishly against mine again in an instant, though I had no idea which one of us moved first.
"Then fucking have me," I moaned between kisses.
He pulled back, just far enough to look me squarely in the eye. "Kiera…" he said, with a hint of warning in his voice again.
Emboldened by my desperate need, I pulled his head down by his hair to run my tongue along his jaw like I'd wanted to do since I'd first seen him that night. "Don't give me a chance to think, Caleb," I whispered before nipping at his earlobe.
A low growl rumbled in his chest—my only warning before Caleb grasped me by the arm and steered me away from the alcove. I barely remembered to pick up my dropped clutch as we hurried down the hallway. Then, blood racing, I followed him to the elevator.
______
Meet Author Siena Noble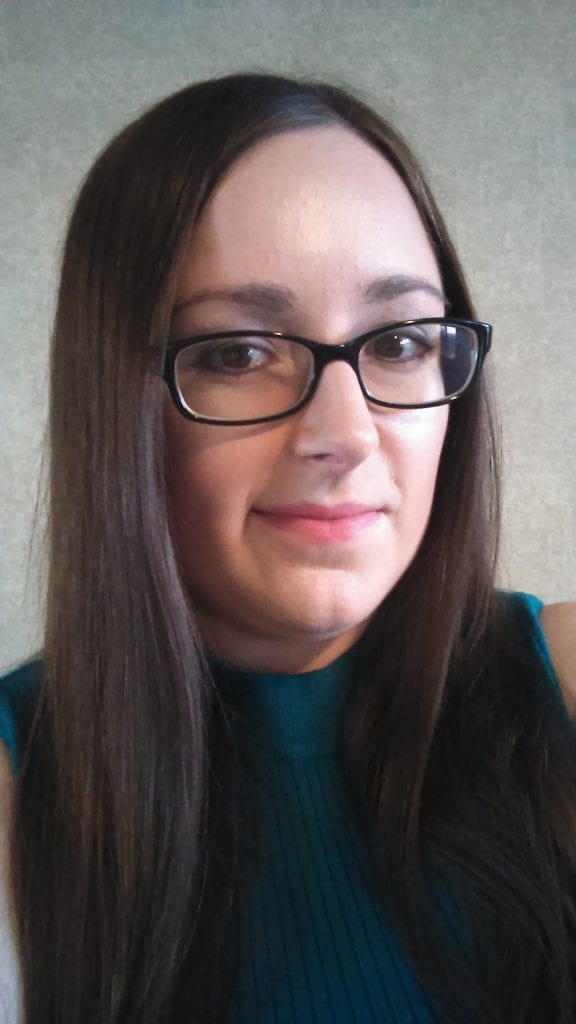 A proud Pittsburgher, Siena Noble has explored and inhabited all kinds of fictional worlds through her writing since age ten. When she's not busy reading, writing, or re-watching Mad Men, Siena enjoys traveling, archery, and getting lost in the woods (also known as "hiking"). She and her better half/writing buddy live together in Pittsburgh. Their dream is to relocate to the middle of nowhere and build a castle capable of withstanding the impending zombie apocalypse.
Interview with author Siena Nobel:
Q: Hi Siena! Can you tell us about yourself?
SN: Hi there! I'm just a Pittsburgh girl writing romance as Siena Noble. As you're reading this, I'm probably sitting at my desk with my 2nd cup of coffee of the day either researching something like "timeline of Broadway musical production" for a WIP, or continuing my re-watch of Battlestar Galactica. Erotic contemporary romance with a healthy dose of kink and an occasional dash of suspense is my wheelhouse, though admittedly my first love as a writer is fantasy, and I cut my teeth as a teenage aspiring author writing Star War, Star Trek, and sometimes Harry Potter fanfic. No, you probably don't want to read them.
Q: What's your favorite romance trope and why?
SN: Hmm… just one favorite? I'm a sucker for a good, sexy slow burn or friends-to-lovers story. Second chance romances with a generous helping of angst (as you could probably guess from this book!), too. But regardless of the overarching trope or subgenre, my real catnip is any story where two wounded, damaged souls help each other to heal. I want to say give me all the angst and heartache, please, but at the same time I like a good dose of humor to balance it out, lend all the emotional turmoil some levity.
Q: Tell us about your heroine. What inspired her quirks and struggles?
SN: Kiera was a fun and interesting character to write, since I got to jump around in time a bit and show how she evolved from who she was at 19/20 into the woman she is now at 26. I'd say she's someone who would describe herself as a "cynic at heart" who knows how the world works and has been stripped of any romantic illusions she once had. But as the story goes on—particularly in book two—she comes to realize that she's more naïve than she thought, but also more capable of opening her heart to new possibilities.
As you'll find out, a lot of what made Kiera into the tough and closed-off person she is can be traced back to the defining tragedy of both her life, and Caleb's. Younger Kiera was all about living in the moment… now, she's so determined not to dwell on the past that she buries herself in her work and focuses on the future. And when Caleb comes back into her life, she finds herself grappling with the possibility that maybe her first love that she thought was better left in the past could also be part of her future.
Q: Tell us about your hero. What motivates him?
SN: Caleb was an interesting challenge to write, because while you will get to see things from his POV later in the trilogy, I limited myself to only Kiera's POV to build a sense of mystery around him. What's he hiding? What happened in those years they were apart? But I think I still managed to capture his personality and inner struggle very well, even if Kiera and the readers can only guess at what exactly that struggle is for now.
He's a man that wears a lot of masks: the cold businessman, the boy next door, the hard-partying bad boy with a reputation he'd rather not have. Just like Kiera, time and tragedy have left him more than a bit closed-off, but just under the surface of that is a warm and genuinely caring man with more love to give than he's willing to admit to. It's not that side of himself that he's really afraid to show, though, but the darker layers that lie beneath that.
Q: Where can our readers find you? (Social media, website, etc.)
SN: I'm mostly active on Twitter, @Siena_Noble, but you can fine me on Facebook as well as Goodreads, and my website is sienanoble.com.
Thanks for hanging out with us, Siena!
Click Here To Enter The Giveaway!