Sandy Sullivan – Hot Hot Sizzling Hot Cowboys
"
Make Mine a Cowboy by Sandy Sullivan is every country boy loving city girl's fantasy brought to life. The depth of the characters and emotions they go through are relatable and realistic, they pull you into the story and take you for an exciting ride that you don't want to end." Amazon reviewer
"
A Cowboy For Christmas caught my attention I'm so glad it did cause now I have another author that I can add to my list of AMAZING authors that I adore this book is amazingly HOT HOT SIZZLING HOT.  if you love HOT COWBOYS and SIZZLING HOT SEX I truly recommend this book trust me you won't be disappointed I wasn't." Amazon reviewer
"
 Hot, steamy sex, hunky cowboys, dude ranch with resident ghosts!! What's not to love!! This is gonna be a great series!! You won't be disappointed!!" Amazon reviewer.
To get in on the action of these hot reads, check out the links below:
Make Mine a Cowboy
$0.99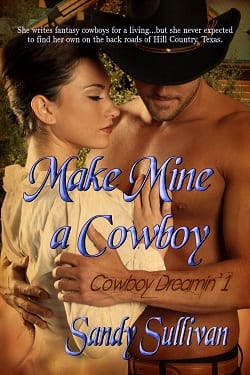 Reg. Price: 4.99
Mesa Arraguso writes about hot cowboys for a living. Being a romance writer has it perks and its drawbacks. She spends a lot of time alone in front of her computer, but she gets to fantasize about incredibly hot men wearing cowboy boots and Stetsons. While visiting San Antonio, Texas for a writer's conference, she finds herself stranded on the back roads of Bandera only to be rescued by one of the most gorgeous men she's ever encountered, be it fantasy or for real.
Joel Young is a cowboy. From the top of his Stetson to the tip of his dirty cowboy boots, he's cowboy through and through. Along with rescuing women when they do silly things like running out of gas miles from town on a dirt road, he spends his days herding cattle, fixing fences and breaking horses.
Can one handsome cowboy and a city-girl from LA find common ground is the Hill Country long enough to see beyond a quick fling?

Also available on B&N – iTunes – Smashwords – Kobo
Love Me Once, Love Me Twice
$0.99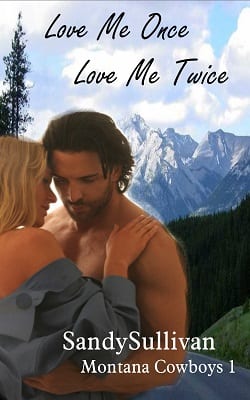 Home. They say home is where the heart is, but can coming back to Red Rock,Montana really be home? Natalie Bennington is about to find out.
Finding herself in a blizzard and stuck in a ditch, the last person she expects to rescue her is gorgeous ex-high school jock, Cade Weston. His light brown hair and baby blue eyes had many a teenage girl all a twitter including her, but being the shy band girl didn't garner attention from his type. When Cade's best friend Kale, and ex-football jock shows up, the stakes have just shot through the roof. Both men want her and she can't understand why.
Cowboy and all around good guy, Cade Weston is a born and raised Montana boy. Yes ma'am, no sir, hold the lady's chair, open her door—those things were ingrained in his upbringing, but every man likes a pretty woman. Natalie Bennington has grown up into one gorgeous female and he can't get her out of his mind.
Kale Dunn can't get over the changes in the shy band girl he remembers from high-school. Natalie sure turned into one hot woman. All legs, gorgeous body and breasts big enough to fill a man's hands. Would she be willing to share? He and Cade liked to partake in threesome's on occasion, but from what he remembered of Natalie, he didn't think she'd be the type. Was he wrong?
Wined, dined and loved by two men. Can she make the decision to love only one or
will their possessiveness drive her back to Oregon?

Also available on B&N – iTunes – Smashwords
Healing a Cowboy's Heart
$4.99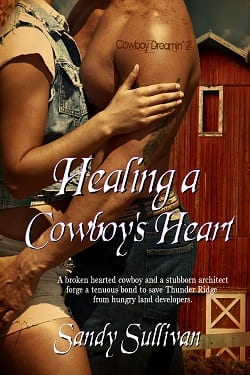 Jeffery Young is tired of women and their games. His son's mother did enough damage to his heart to last a lifetime. Now, he had to deal with the architect helping the land developers tear up the local ranches for their houses. Not on his watch.
Terri Kennedy had her own plans. As the architect for a large land development in Bandera Texas, the deal would put her business on the map, but dealing with the stubborn, bullheaded male from the local ranch didn't come with her job description. Maybe staying on their guest ranch would give her some clues as how to handle Mr. Stubborn Jackass.
Will the secrets she's harboring keep him from getting close?
Can he learn to trust women again or should be play the game to find out what's she's up to?

Also available on B&N – iTunes – Smashwords – Kobo
Falling Hard
$4.99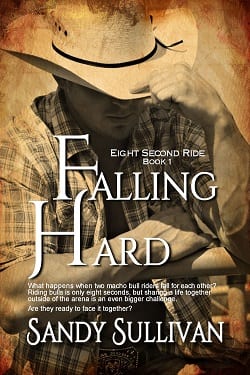 Meet two champion bull riders–macho, muscled Marlboro Men, confident, cocksure cowboys–from their struggle for survival in the rodeo arena, and 8 seconds of fame on the back of a 2000 lb bull to their most private encounters behind closed doors where their world is about to explode…
Levi Bond is a seasoned pro, competing for the World Championship. Bull riding is what gets his adrenaline pumping, his heart racing, and makes him feel like a million bucks. That, and the idea of getting it on with Curt Walsh, one of the up and coming stars of the bull riding circuit. Powerfully attracted, Curt's confused and unsure which way he wants his life to go. Will Levi still be around, available and interested when the final decision is made?
Get set for a wild ride in this cowboy romance, sizzling with intense desire, unbridled passion, and unexpected emotion as Levi and Curt, drawn together like mega magnets, battle not only life threatening, white knuckled action in the arena, but cruelty and bias outside it. The prospect of falling in love is as terrifying as staying on the bull without it killing them!

Also available on B&N – iTunes – Kobo
For the Love of a Cowboy
$4.99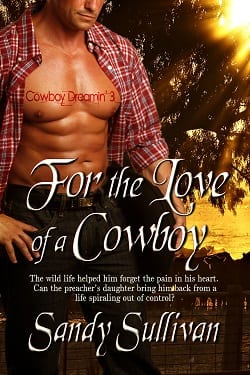 Paige Tyler didn't want to be the preacher's daughter anymore. She wanted the freedom to live her own life, do what she wanted and find the man of her dreams. What she didn't expect to find was that man drunk off his ass and needing her assistance to handle three guys wanting to beat him up in a bar fight.
Jacob Young's life was a mess. Finding solace in a bottle of booze was the answer to his guilt-ridden conscious until an angel in leather pulls him up by his boot straps, brushes him off and convinces him life is worth living.
Do opposites really attract? Can a cowboy with a wounded heart be the answer to her prayers? It's all in For the Love of a Cowboy.

Also available on B&N – iTunes – Smashwords – Kobo
Cowboy Country
$0.99
OR READ FREE WITH KINDLE UNLIMITED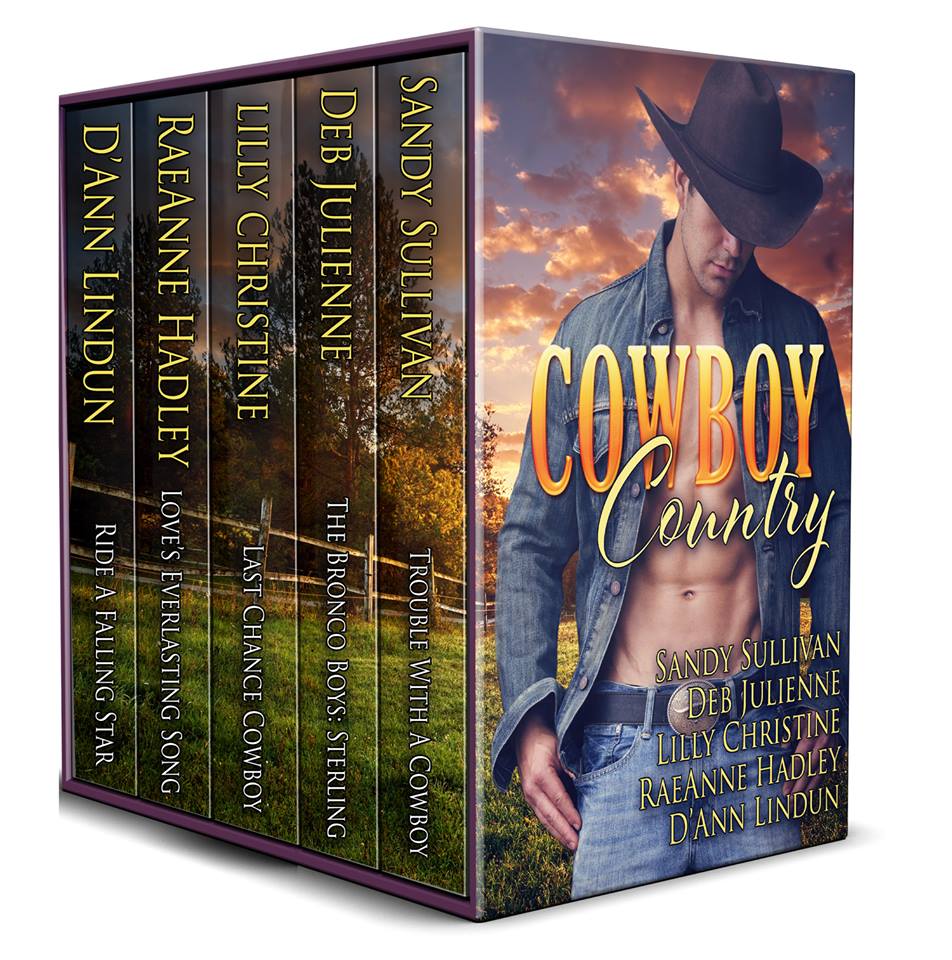 Welcome to Cowboy Country…where the horses hit the trails and the men are rugged and sexy….
Stay and visit a while…
Trouble with a Cowboy by Sandy Sullivan: Jacie Hawkins needs to find a hot cowboy to release some of her pent up frustrations on for the night, but wannabe's aren't her style. Tucker Marshall needs a big-rig driver to haul his prize bull to National Finals Rodeo and he needs one fast. Can some slashed tires and an ornery bull bring two hard-headed people together for some fun in the sun and a little more?
The Bronco Boys: Sterling by Deb Julienne: Can Sterling forgive her for not telling him about the baby? Can Regina forgive him for staying away so long? For the love of their child, they'll do anything.
Last Chance Cowboy by Lilly Christine: Austin attorney Jessie O'Rourke helps at-risk youth beat the odds, just like she did. But her program is at stake, and Wyatt Callanbach can help. He's been two-stepping around Jessie since her days as Homecoming Queen….
Love's Everlasting Song by RaeAnne Hadley: A determined horsewoman focused on what she wants and the rock star who stands in her way. Who will win the battle?
Ride a Falling Star by D'Ann Lindun: A stubborn Cowboy. A feisty Showgirl. One mobster determined to kill them both. Will they be able to hold on for longer than 8 Seconds?
Saddle up with these best-selling authors for your own Happily Ever After…

READ FREE WITH KINDLE UNLIMTED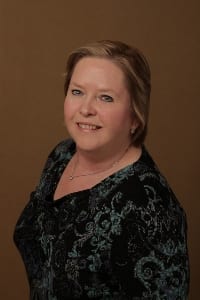 About the Author: Sandy Sullivan is a romance author, who, when not writing, spends her time with her husband Shaun on their farm in middle Tennessee. She loves to ride her horses, play with their dogs and relax on the porch, enjoying the rolling hills of her home south of Nashville. Country music is a passion of hers and she loves to listen to it while she writes.
She is an avid reader of romance novels and enjoys reading Nora Roberts, Jude Deveraux and Susan Wiggs. Finding new authors and delving into something different helps feed the need for literature. A registered nurse by education, she loves to help people and spread the enjoyment of romance to those around her with her novels. She loves cowboys so you'll find many of her novels have sexy men in tight jeans and cowboy boots.
Contact Links: