Enter to Win Paperbacks and a $25 Gift Card from Bestselling Author Jessika Klide Falling For His Badass
by
Jessika Klide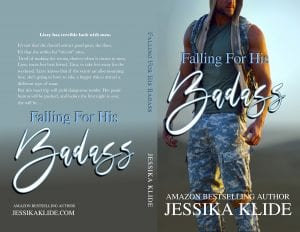 Lizzy has terrible luck with men. 
It's not that she doesn't attract good guys, she does. It's that she settles for "decent" ones.
Tired of making the wrong choices when it comes to men, Lizzy trusts her best friend, Tara, to take her away for the weekend. Lizzy knows that if she wants an all-consuming love, she's going to have to take a bigger risk to attract a different type of man.
But this road trip will yield dangerous results. Her panic button will be pushed, and before the first night is over, she will be Falling For His Badass.

---

Allow us to introduce you to
Jessika Klide 

Jessika Klide is my pen name. I also write as Cindee Bartholomew.
I'm an Amazon Bestselling Author with fans in over 25 countries. I've been interviewed by USA Today, Happily Ever After Blog, been on podcasts such as The V3TV Network with Vaughn Joseph, and quoted for relationship advice in Men's Health, Bustle, Prevention Magazine, Parade, YourTango, My Joy Online, StyleCaster, and The Real Daily.
I'm from LA … Lower Alabama. The Deep South. I married my high school sweetheart and have been married to him longer than I have lived without him. He is not only my soulmate but my best friend, and what I know to be true is not all love stories are rough. Some are fun! Yeah, I'm living the happily ever after!
I write what I know. Lust and love form perfect unions and the stars do align for true love. My heroes are strong alpha males that love and respect their strong females.
I absolutely LOVE writing, so I thank each of you from the bottom of my heart for reading my stories, supporting my passion, and allowing me to live my dream. All of my books contain heavy doses of laughter and love. My goal is to make you laugh out loud and give you more than one happy ending. 😉

Meet Jessika Klide on a more personal level! 
1. How long have you been writing romance? 
I've been writing romance since 2014, so five years now. Wow. Time flies when you are having fun. 
2. What was your motivation to begin writing?
Writing a book was always on my bucket list. In 2014, I had a health scare that shifted my priorities and I decided it was time to do those things I wanted to do before it was too late. 
3. What romance genre do you write? 
I've been writing erotic romance as Jessika Klide since 2014. But in 2017, I starting writing steamy romance as Cindee Bartholomew. Cindee is actually my real name, but everyone in the book world knows me as Jessika Klide. 
4. What heat factor do you write? How many chilli peppers on a scale from 1 being mild to 5 being scorching hot. 
Jessika Klide writes five chilli peppers, while Cindee Bartholomew writes three and a half to four. lol. The main difference in the two levels of heat is the sexually explicit details and the words used. Jessika gives you ALL the details, and drops the F-bomb a lot! While Cindee uses other words to describe the anatomy and rarely uses cuss words. But don't make the mistake of categorizing Cindee's as sweet romance. They are extremely sensual. 
5. How many books have you written so far? 
Jessika has written 17 and Cindee has written 7. 
6. Have you written any series, and if so, how many? 
I've written one series, but it's published twice. Both Jessika Klide and Cindee Bartholomew each have a version of the love story between Siri Wright and Aurelius Moore. lol. It's a long story, but the short version is this. With success comes acceptance, and Jessika Klide has had success. My mother wanted to brag to her friends about my accomplishments, but she was embarrassed by the erotic genre. So I edited the entire romance series and published it under my real name. I'm very proud of the fact that both versions are Amazon Bestsellers. Jessika's series is called Siri's Heart and there are 12 books so far. My work in progress is book 13. While Cindee's is Siri's Saga. There are 6 books in it with no plans for a 7th unless the fans demand it.  
7. Are you a plotter or a pants-er? 
More pants-er than a plotter. I do have a beginning and an ending, but what happens in-between is totally up to the characters. 
8. Does your spouse read your novels? 
NO! Thank God! If he knew what I actually write, well, let's just say it's best to keep him clueless. 
9. Tell us about your new release, Falling For His Badass. 
Yes! I'm so excited! Falling For His Badass busted out of the gate and soared to the top! Within 24 hours, it was ranking, and within 48, it was sitting at the #1 spot of Humorous Erotica and Erotic Suspense.
Those orange Amazon flags are so thrilling to see! It's also ranking at #17 under New Releases for Military Romance, plus its success has sent my Amazon Author Rank to #8. Woohoo! I'm so incredibly humbled that so many people entrusted their precious time to read my book. It's surreal. 
10. What genre/troupe does this book fall under? 
Falling For His Badass is a New Adult Suspense, Military Romance, Insta-Love story. Writing about falling in love at first sight is kinda my thing. That's how I fell in love with my hubby. He was so HOT! lol. Our chemistry was incredible. From the very first time I laid eyes on him, till today, forty-one years later, he still does it for me. Often, writers are given the advice to write what you know. Since I experienced love at first sight myself, I can write about it and it reads real.   
11. What heat factor is it? 
Falling For His Badass is a full five on the hot chilli pepper scale. 
12. Who are the main characters?
Lizzy Mayer is a graphic designer who has had nothing but dud boyfriends. She's short and curvy with a great personality, but she suffers from low self-esteem due to the way her 'decent' boyfriends have treated her. 
Brody Andrews is a Navy S.E.A.L., so a physical stud, but he is also a profiler, a behavioural specialist. His job is to identify bad guys. He's good at what he does, but his focus is searching for the negative. He yearns to find love with someone positive, who is sweet, innocent, and has a good heart.
13. What came first the plot or characters? 
Hmm, the plot came first, but the characters appeared immediately, fully formed. Brody was a total badass but needed a woman to soften his hard edges. Lizzy was a hopeless romantic. She knew what she wanted in a man but had no idea the kind of man that would give her, her happily ever after.
Creating their story was so romantic. lol. I took my time, prancing Lizzy around in front of Brody while I wrote Flynn, Twisted Together. lol. By the time, I was ready to write Falling For His Badass, Brody was chomping at the bit to be unleashed.
14. Give us a plot point that isn't in your synopsis. No spoilers, please. 
Lizzy finds herself sandwiched on the dance floor between to very drunk, aggressive lawyers, who are looking to hookup in a threesome later on, and whose idea of dancing is just grinding foreplay. Brody comes to her rescue. That's all I'm going to say, but know this, Brody Andrews is badass! Totally swoon-worthy!