Win Signed Paperback Copies of The Holiday Daddy Doms Series by Raisa Greywood + Swag!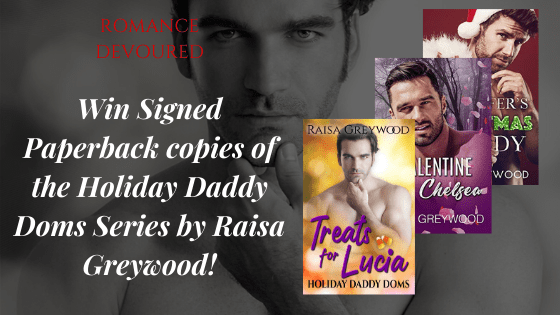 TREATS FOR LUCIA
(Holiday Daddy Doms Book 3)
by Raisa Greywood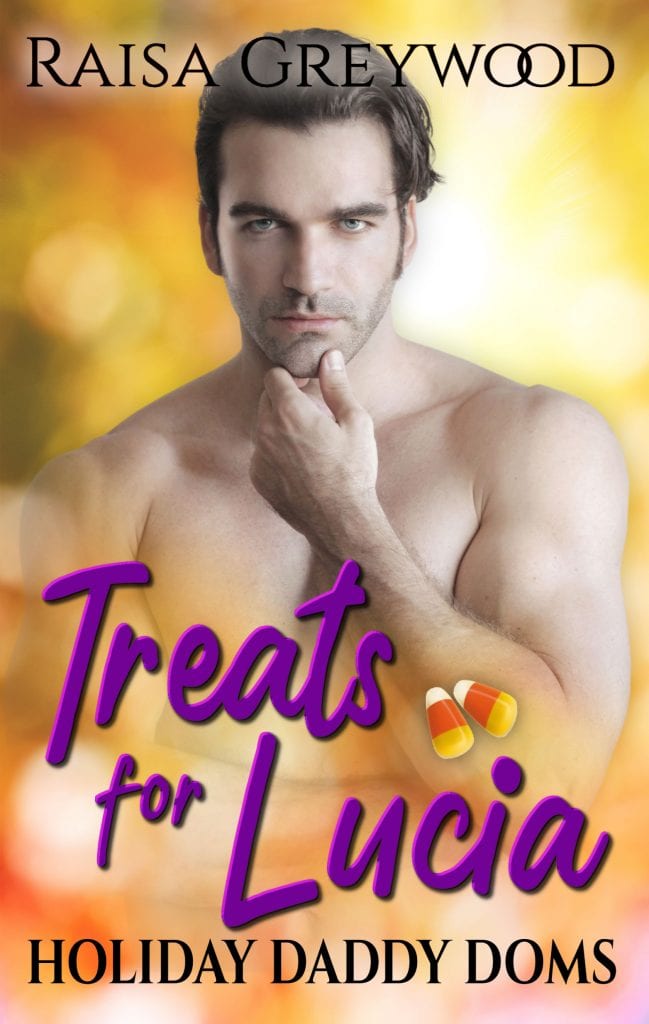 Can a Daddy pick out just the right treat for a sad little girl's Halloween?
When Lucia loses her best friend, she loses her way too. Now, there's no one to stop her from acting out in an attempt to ease her grief.
Ryan is on a mission to show Lucia everything she's been missing. It might take a few tricks, but this Daddy is determined to bring joy back into her life.


______
Excerpt from Treats For Lucia:
Lucia might be an accomplished domme, but she submitted just as beautifully for the right person. Watching her with Serena during their demos had been gorgeous, and she'd been an amazing submissive. Ryan wasn't sure he could be what she needed, but he had to make her see the path she was determined to follow wasn't in her best interest. Then again, Lucia had submitted to him in the past. Regardless of Serena's wishes, she wouldn't have done that if he hadn't had the chops to carry it off.
In the months since Serena's untimely passing, Lucia had become morose and distant. He'd hoped to cheer her up and make her remember how much fun Saints and Sinners could be, so he selected a young man for a demo scene, knowing Lucia would love watching him work. With luck, she'd have chosen a partner, either a dominant or a submissive, and…
Well, best laid plans and all that.
Instead of enjoying the festivities, she'd risked losing everything for a glass of vodka. He stalked toward her, making her blink and take a step back.
"Make your choice, sweetheart," he said softly, his voice deepening into the husky growl designed to make even the strongest sub melt into a puddle.
"I don't consent," she retorted. "Go fuck yourself."
"Okay." Biting back his disappointment, Ryan strode to the foyer for his coat. "Best wishes to you. I'm afraid I won't be seeing you at Saints and Sinners anymore, but I'm sure you'll be fine on your own."
As much as it pained him, he had to make a stand and leave. Without her consent, he wasn't going to do shit. The worst thing he could do would be to fail in his follow up. Sadly, it would mean letting her go. It went against everything he believed to let a friend suffer by herself, and he couldn't help but think Serena would have done better. She'd have found the right thing to say.
A cool fall breeze wafted in when he opened the door, and he sighed before putting on his jacket.
"Wait."
He turned when she laid her hand on his shoulder, but kept his face impassive. "Why? You already said you weren't willing to talk or take the correction you need, and you've asked me to leave."
She chewed her lower lip, making it plump and swell. "What happens if I say yes?"
"You go over my knee for a sound spanking. After that, I'll make you some hot chocolate and put you to bed after our talk."
Resisting the urge to pull her lip from between her teeth, Ryan waited her out. Finally, she nodded.
"All right, but no more than five."
Arching a brow, he nodded. "Fair enough. Go get your hairbrush. And I don't mean the one in your bathroom. Get the one from the playroom."
Her eyes widened. "But you said—"
"I said you'd be getting a spanking. I didn't say I'd use my hand. You have sixty seconds."
Shoes flying off her feet, she squeaked and disappeared down the stairs.
Thank fuck.
Belatedly, he remembered to check his watch for the time, but it wasn't necessary. She raced up the stairs as quickly as she'd gone down, carrying a wide wooden paddle the size and shape of an old-fashioned brush.
He took the paddle, then led her to the couch and sat down. "Over my knee, baby girl."
"Fine. Let's get this over with."
Ryan hid a chuckle. Ballsy to the very end. To her credit, she didn't try to escape. Gingerly, she knelt on the couch next to him and slowly lowered her torso over his lap.
______
Meet Author Raisa Greywood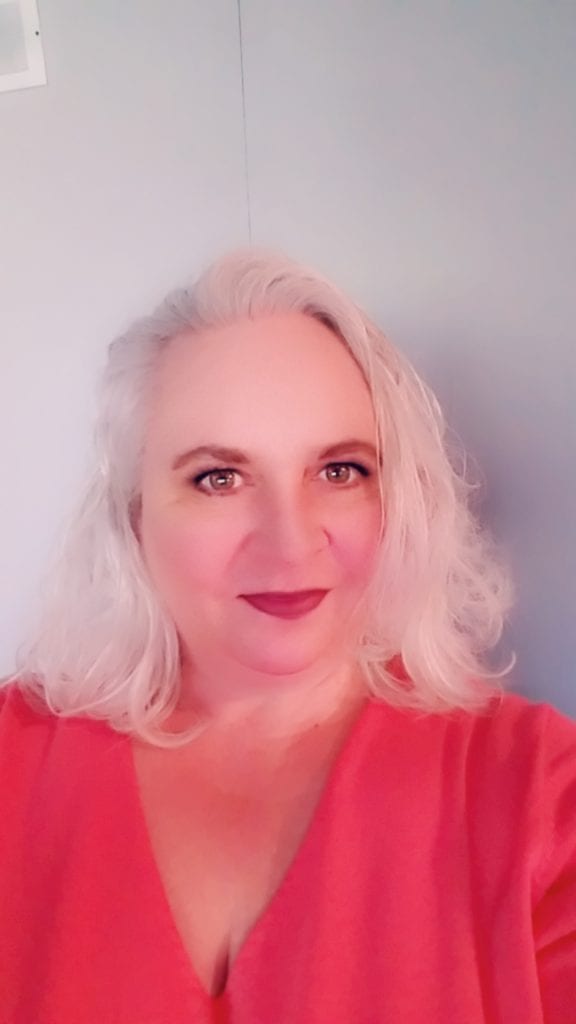 Author of filthy smut, empty nester, and cat snuggler.
She's worked as a teacher, an actuary (her husband called her a bookie – which isn't too far from the truth), mother, scout leader, and is now enjoying semi-retirement writing the books she always wanted to read.
Interview with Raisa Greywood:
Q: Hi, Raisa! Tell us a little about yourself.
RG: My name is Raisa Greywood, and I write kissing books. I've dabbled in science fiction, paranormal, contemporary, and comedy, but almost all of them have some aspect of power exchange or BDSM involved. I've even written a few horror anthologies with another author, Sinistre Ange – Golden Angel's evil alter ego.
My family was military, so I grew up traveling all over the world, and currently reside in Ohio with my husband and two irascible cats.
Question 2.Being an author was absolutely the last thing on my mind until about five years ago. I'm a retired accountant, and the last English class I took was in the mid-eighties. Anyhoo, I was talking to my dear friend Cristina, and she mentioned how much she used to like reading the little stories I wrote for fun. I thought they were dumb at the time, but I suppose I must have impacted her if she remembered them after thirty-odd years. Anyway, she challenged me to write something, so I did. I published my first book in 2017.
Q: For those who are new to your books, what is the story about?
RG: Treats for Lucia is the third book in the Holiday Daddy Doms series. This series is a bit interesting because it has a very slight paranormal element. All my couples are brought together by meddling guardian angels. Readers will see a small bit of their personalities and backstories in the prologues and epilogues of each book. They are certainly characters, but don't appear in the main stories.
In Treats, we meet Ryan and Lucia. Lucia has recently lost her best friend and roommate, Serena, and begins to act out because of her grief. Ryan catches her when she makes a poor decision and decides to help her. They each learn many things about the other that only make them stronger together.
Q: What is your favorite part of being a published author?
RG: My favorite part of being a published author is talking to my readers. I think my favorite comment came from another author, Stella Moore, who said, "You made me cry before I got to the first chapter, you sadistic wench!"
I absolutely adore taking my readers through a gamut of emotions. If I can make them laugh, cry, and get frisky all in the same book, I count it a job well done.
Q: Where can our readers find you? (Social media, website, etc.)
RG: You can find me all over! I have a convenient Linktree that makes things easy.https://linktr.ee/RaisaGreywood
Sign up for my newsletterWebsite
Join my Facebook Renegades
Thank you, Raisa Greywood!