Enter To Win A Paperback Copy Of A CHANCE WORTH TAKING + A $25 Gift Card!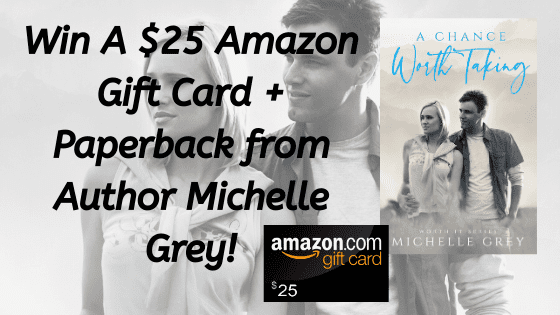 A CHANCE WORTH TAKING
by Michelle Grey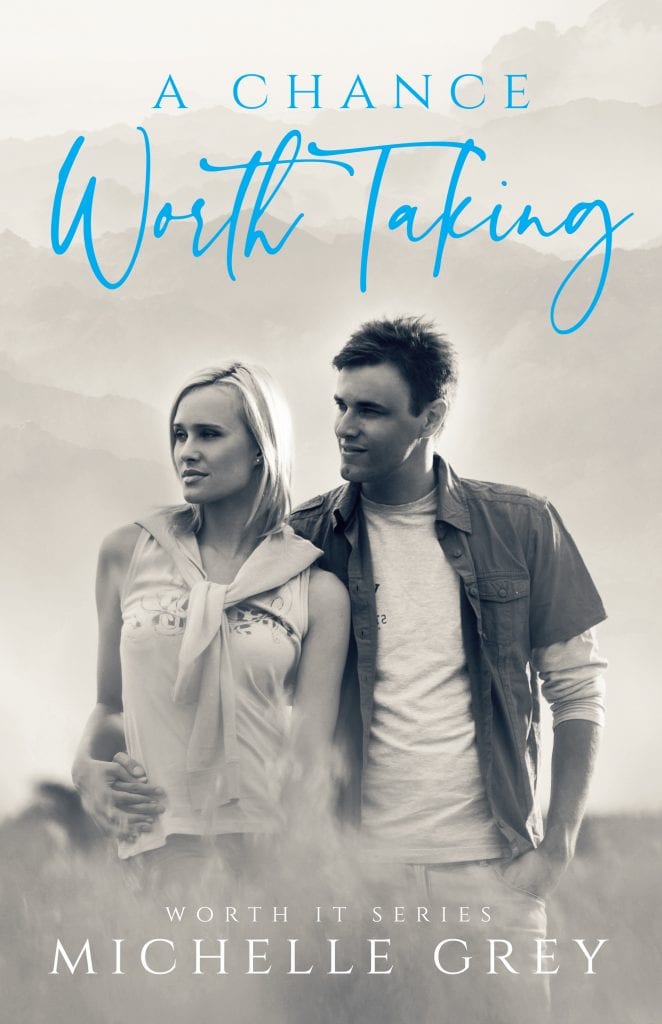 Straight-laced accountant Hadley Bruce has her life mapped out in meticulous detail. Everything is humming along according to plan until her boss unexpectedly forces her to take a sabbatical. Then her carefree cousin Sophie browbeats her into a trip to the San Juan Mountains. Oh, then there's the dead body.
Private Investigator Noah Dalton is hired to find out who's trying to frame his client – wealthy businessman and gubernatorial candidate Miguel Herrera. Noah heads under cover to the quaint town of Ouray Colorado where he meets Hadley, his first suspect.
What neither of them expected was their instant, powerful attraction.
As the killer's web surrounds Noah and Hadley, they must work together to unearth the town's secrets and keep the killer from striking again. Fate brings them together, but Noah's own secrets may ultimately tear them apart.
Get Your Copy of A Chance Worth Taking Here

---

Excerpt From A CHANCE WORTH TAKING:
Hadley had spent the entire ride back to town thinking about what they would say, but it wasn't as if there was a class on proper etiquette for this sort of thing. Short and to the point would work best. "There's a dead body behind a big boulder near the Animas Forks ghost town."

"What kind of dead body? Like an animal?"

Hadley's eyes widened at his obtuse question. "No. Like a human."

"You sure it wasn't someone taking a nap?"

His condescension rankled Hadley. "Eyes glazed over? Not breathing? Yeah, we're sure."

He scowled then addressed Sophie. "How long ago did this happen?"

"We found him about ninety minutes ago," she replied.

The sheriff turned to his deputy and jerked his head toward the door. "Head on up to Animas. See what you can see."

The deputy's stony glare hovered over the sheriff for a moment then she turned and marched out of the office.

Sheriff Callaway shifted his gaze from the deputy's backside and returned his attention to them. "I know you all are tourists, but I have to ask. Any chance you recognized the body?"

Sophie choked on a sharp intake of breath, but Hadley spoke over her. "We aren't sure, but he looked a little bit like the server at the Ouray Bed and Breakfast where we're staying."

"Hmmm. Okay, have a seat." He motioned toward two hard plastic chairs. "You two can stay put right here until I hear back from Lucy. There's coffee if you want it."

Well, crap. Hadley had hoped to escape back to their hotel, but she didn't want to ask for fear he'd refuse her request. Sophie was still anxious, and if they had to stay long, her imagination would run wild.

An hour and a half later, Sophie seemed to be in control, writing in the journal she'd pulled from her purse. But after two cups of bitter coffee on an empty stomach, Hadley was wired.

Sheriff Callaway had gotten the call from Deputy Wilson requesting the county coroner, but then their conversation had become hushed and Hadley strained to hear them. The sun was setting early over the mountain ridge to the west when Wilson finally returned and walked straight back to the sheriff's office, barely sparing them a glance.

Sophie's head popped up and followed the woman's progress. "She doesn't look happy."

Hadley shoved her granola bar back into her purse. "Not our problem."

The sheriff entered the reception area and motioned them to his office, his lips pinched. "A couple more questions, if you please."

Hadley shrugged at Sophie. They'd done nothing wrong, and they had absolutely nothing to hide.

So why was she nervous?

The dated paneling in the office matched the reception area, but without any windows this room was stuffy and dark. She and Sophie took the offered seats and Hadley watched the silent interaction between the sheriff and his deputy, a pit forming in her stomach.

"The person you found today was Jose Morales. You said you knew him from the hotel, right?"

"We don't know him," Sophie said, with a sideways glance at Hadley. "He was our server a couple of times."

Wilson put a hand on her hip. "What about the name Miguel Herrera? Ring a bell with you?"

Sophie shook her head, and with a silent sigh of relief, Hadley relaxed against the back of her chair. Maybe they could finally get out of there. "From around here? Nope. The only Miguel Herrera I'm familiar with is Miguel Herrera Holdings out of Denver."

Tense silence filled the room as Callaway leaned forward, elbows on his desk. "You know Miguel Herrera Holdings?"

Hadley swallowed. She wished she could take back the words. "Strictly in a forensic sense." Oh, crap. "Accounting. Forensic accounting. I work for a large firm and his companies are audited by us."

"Is that so?" Wilson said.

It wasn't the words as much as her tone that set Hadley's teeth on edge. "Yes. They're a public company that requires independent verification. Is that a problem?"

Sheriff Callaway's eyes narrowed. "It just might be."

Meet Author Michelle Grey
Michelle Grey is an avid lover of books and had always thought
that someday she would take up her pen and write romantic suspense.
In 2009, Michelle was diagnosed with a rare form of ovarian cancer and
she realized that somedays aren't guaranteed. She is now cancer-free but
that life changing event motivated her to pursue her dream of becoming
an author.

Since then, Michelle has written three books in the Long Shot
Series, one novella, the first book in the Worth It Series, and a nonfiction
story about her cancer experience.

Michelle lives in the Midwest with her husband of 30+ years. Her
life is rich with four amazing kids, a wonderful son-in-law, and three
beautiful grandchildren. For Michelle, any day that involves family,
writing, or reading is a great day indeed.
Interview With Michelle Grey:
Q: Hi Michelle. Can you tell us about yourself?
MG: My name is Michelle Grey and I write contemporary romantic mystery/suspense. I have lived in the Midwestern US most of my life and my favorite things about this region are the amazing people and the storm season. Yes, I'm weird like that.
Q: What is your book, A Chance Worth Taking, about?
MG: A Chance Worth Taking is the first book in my new Worth It series. It takes place in the rugged, beautiful San Juan mountain region in Colorado. The events of the story force my heroine Hadley, a very risk-averse accountant, to get waaaaay outside her comfort zone as she helps solve a murder and as she unexpectedly finds herself opening her heart for the first time in her life. This book is a growth journey for her as she deals with deceit and betrayal on her way to a new and better version of herself.
Q: Is any part of your story or the characters based on personal experience?
MG: We vacationed in Ouray Colorado a few years back and the genesis for this story started right where the book does, at the top of a nearby mountain pass. As I looked around at the beautiful, peaceful scene I wondered what would happen if someone came upon a dead body out there. Fortunately, we didn't experience that ourselves, but Hadley did and she and Noah took the story from there.
Q: What is your ideal reading experience?
MG: I am a fan of reading anywhere, anytime. I read paper or ebooks, whichever is most convenient for the moment. My favorite place to read though is in my Paris-themed office, surrounded by books. Definitely my happy place. My recent author obsessions include Brenda Novak, Susan Elizabeth Phillips, Liane Moriarity, and Celeste Ng.
Q: Where can our readers find you? (Social media, website, etc.)
MG: You can find me on Facebook, Twitter and Insta or visit my website at www.authormichellegrey.com
Q: What is one thing most people don't know about you?
MG: One thing many people don't know about me is that I am an ovarian cancer survivor. I never let an opportunity pass without making women aware of the most common symptoms of this quiet disease (bloating, feeling full quickly, pelvic or abdominal pain, unexplained weight loss.) So consider this your PSA for the day. Pay attention to your body and if something doesn't feel right, make it a priority to visit with your doctor.
What and important message. Thank you, Michelle!