Win 9 Free Books From NYT & USA Today Bestselling Author Lorhainne Eckhart!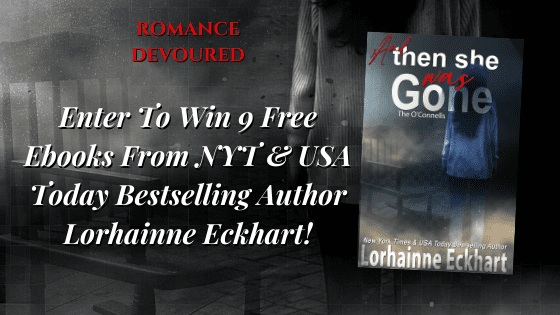 AND THEN SHE WAS GONE
(The O'Connells Book 12)
by NYT & USA Today Bestselling Author Lorhainne Eckhart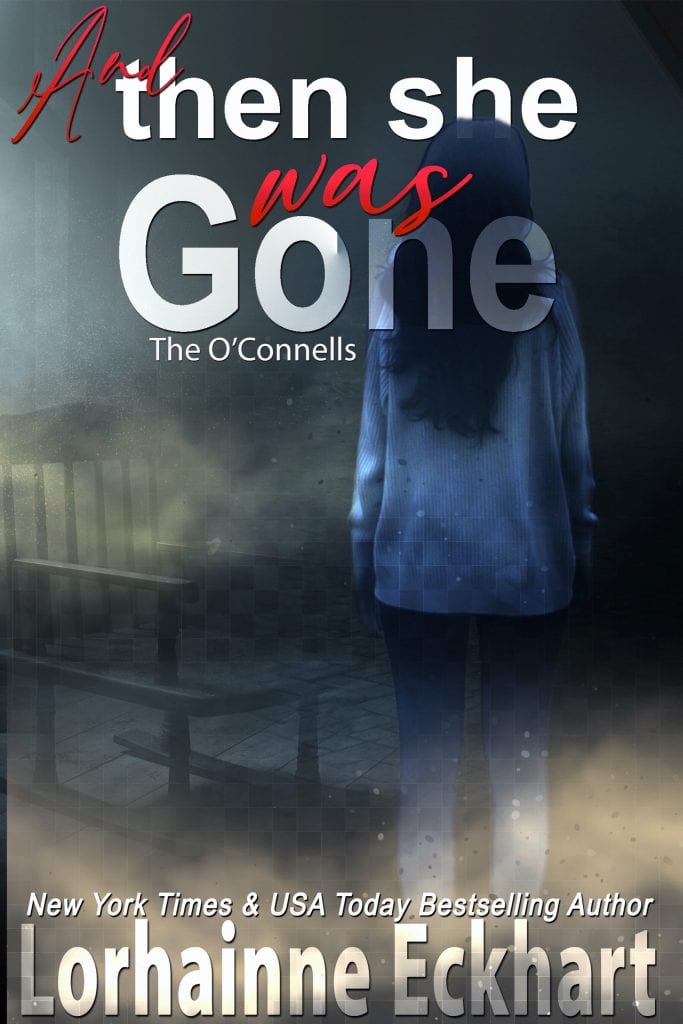 The moment Brady told his family he was engaged, his fiancée was nowhere to be found.
Six months ago, Brady's true love, Cassie Arnold, walked into his hometown and his life. Everything was perfect, including their plans for their upcoming wedding—but one night, when he came home, Cassie was gone.
How could she just vanish?
Brady turns to his sheriff brother, Marcus O'Connell, and is stunned by what he discovers. Not only is there no trace of her, but it's as if she never existed.
As they dig deeper into the days before Cassie vanished, Brady is stunned to learn of a series of mysterious phone calls, and he realizes his bride-to-be and her seemingly perfect smile were hiding dark secrets, including an unsolved murder at her family's cabin in a hometown he's never heard of.
Brady soon suspects that to find Cassie, he may also have to figure out what really happened the night of the murder—and why Cassie kept it all a secret.
Get Your Copy Here:
Amazon | B&N | Kobo | iTunes | GogglePlay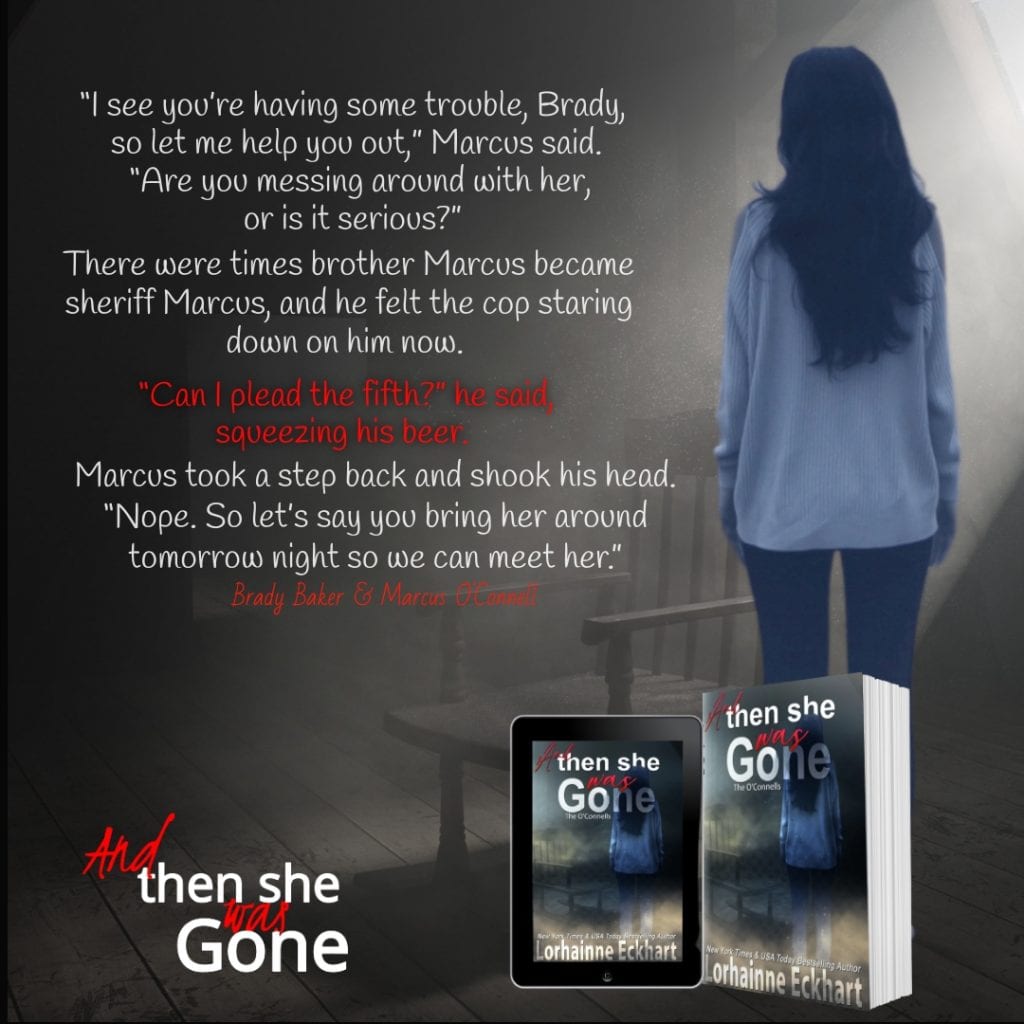 Excerpt from AND THE SHE WAS GONE:
"When you believe in something, you stand up for it," Owen said. "You do right by your family, and you know who your family is. We have your back, and it goes both ways. You don't go off half-cocked alone, like Luke," he added, looking over to him.
Luke seemed to be quite comfortable, but he never really knew what his brother was thinking. Maybe he needed to take their advice and check in with Luke, who hadn't let on how he was since splitting with Rosemary. He really did hide what he was thinking.
"Hey," Luke said, gesturing with his beer and taking them all in. "We all need time alone sometimes, but know I'm one call away and always have been. No questions asked, ever. You know that, all of you. Lost count of the jams and scrapes I've found myself in, cleaning up after you all."
"If you're hurting, scared, screwed up, or confused about anything, you come here, to us," Marcus said. "You get stuck in your head at times, Brady, and you wear your heart on your sleeve. That's good sometimes, but others it isn't."
"And you always do your best," Owen said. "There's no shame in doing average hard work, the kind you're doing. You've got a trade under your belt now, and you're set. You finish the job, no complaints."
Brady was working for his brother now in his plumbing business, apprenticing, because he hadn't come up with a better option. That day almost a year ago, before Iris and his dad had left again, Owen had simply pulled up in his plumbing van and said, "Get in!"
"You never gave me a choice," Brady said. "I finished high school and thought of taking a few courses at college, but when I couldn't get in, you said I had to do something instead of sitting around, so you made me carry your tools and watch over your shoulder, crawl into holes, get dirty every day… Have I complained yet?"
Owen didn't seem impressed. His older brother didn't say much but seemed to always have his eye on him, telling him where to go, which job site to be at, and what to do. He wondered when he should start looking for something else, but what? He had no experience and had never worked before, because his dad had always moved him to some new city or state before he could get too comfortable.
"Well, you just make sure you don't start complaining," Owen said. "Anyway, when it comes to family, we stand beside each other, all of us, no questions asked until after."
He heard a car door outside.
Marcus went over to the window and glanced out. "Karen and Jack are here," he said before striding back over to the sofa and resting his hands on his hips, dragging his gaze over to Brady. "So I'll leave you with this, young man: I stand up for what I believe in because it matters to me. I screwed up a lot. I had a head full of steam, and, as Owen has pointed out too many times, I was hell on wheels. But I was proud of that when I was your age. I still cringe, thinking back on what I did and what I said, but I cleaned up my act and got my shit together after a lot of years. Even though I'm proud of being, as people say, just an average guy, I'm always there for my family first. I'm a damn good brother, husband, father. If you get in trouble, I'm your first call, because I'm there, standing beside you no matter what. All of us are." He walked around the sofa and rested his hand on his shoulder. "You may not have the same last name as us, Brady, but you are an O'Connell, so don't forget that."
He heard the door open, then his sister's voice.
Marcus was still staring down at him. "So why don't you tell us about this girl you've been seeing?" he said.
Brady wondered for a second whether he was being followed. "What?"
"That's another thing about us," Marcus said. "We know everything that's going on, and we're in everyone's business. You think we don't know about that cute waitress you make eyes at every day at the diner? You stop in almost every day for lunch and take her out, and you think word wouldn't come back to us? Yet we haven't met her, so I figured it was time to sit you down so you understand how things work here."
What the hell was he supposed to say? This was his family, and they obviously knew about Cassie, but there was something appealing about keeping his love life separate from the O'Connells. He realized they were all staring at him, waiting for him to say something as he fought the urge to squirm under their scrutiny.
"I see you're having some trouble, Brady, so let me help you out," Marcus said. "Are you messing around with her, or is it serious?"
There were times brother Marcus became sheriff Marcus, and he felt the cop staring down on him now.
"Can I plead the fifth?" he said, squeezing his beer.
Marcus took a step back and shook his head. "Nope. So let's say you bring her around tomorrow night so we can meet her."
He wondered what would happen if he said no. No one said a word, and Marcus didn't move.
"Fine," was all he said.
Marcus stepped back and gestured to Luke, who reached behind his chair and slid a wrapped box over to him, saying, "Your other gift, young man. Happy birthday."
As he reached for the box, all he could think was that he'd been pulled into the most unusual family. He glanced up to Alison, who was following Charlotte and Eva down the stairs. There she was, the reason he hadn't brought Cassie around and was still dancing in the shadows with her.
Awkwardness still lingered with Alison, but maybe Marcus was right. It was time to move on.
______
Meet NYT & USA Today Bestselling Author Lorhainne Eckhart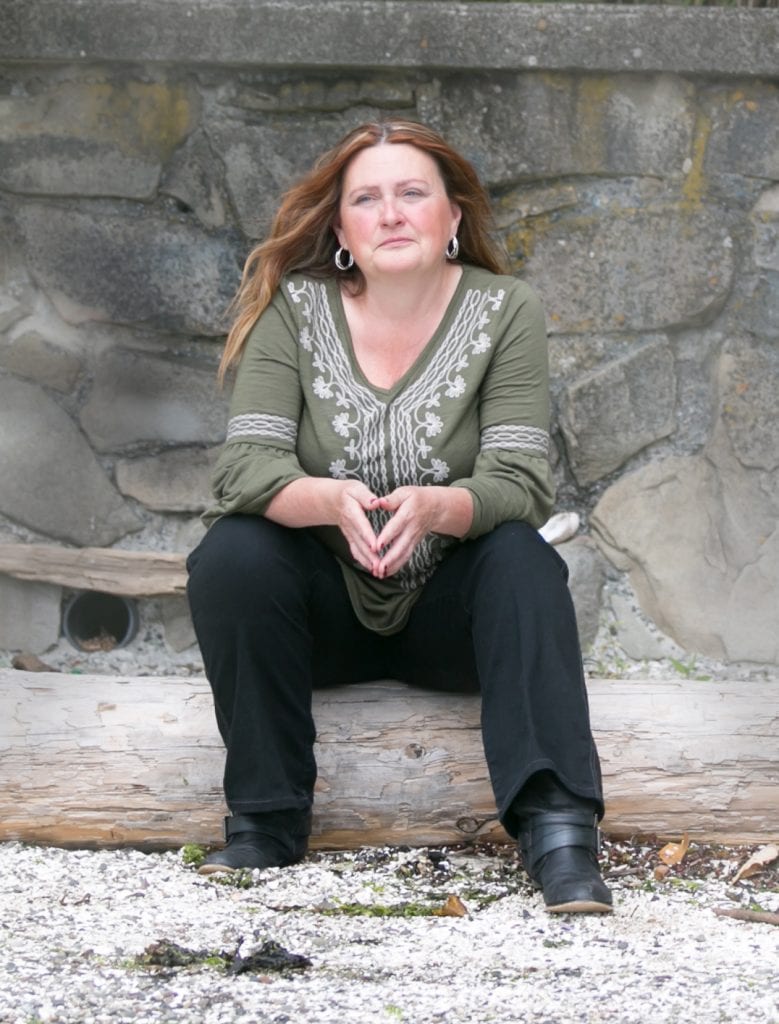 New York Times & USA Today bestseller Lorhainne Eckhart writes Raw Relatable Real Romance is best known for her big family romances series, where "Morals and family are running themes. Danger, romance, and a drive to do what is right will see you glued to the page." As one fan calls her, she is the "Queen of the family saga." (aherman) writing "the ups and downs of what goes on within a family but also with some suspense, angst and of course a bit of romance thrown in for good measure." Follow Lorhainne on Bookbub to receive alerts on New Releases and Sales and join her mailing list at LorhainneEckhart.com for her Monday Blog, books news, giveaways and FREE reads. With over 120 books, audiobooks, and multiple series published and available at all retailers now translated into six languages. She is a multiple recipient of the Readers' Favorite Award for Suspense and Romance, and lives in the Pacific Northwest on an island, is the mother of three, her oldest has autism and she is an advocate for never giving up on your dreams.
"Lorhainne Eckhart has this uncanny way of just hitting the spot every time with her books." (Caroline L., Reviewer)
Interview with Lorhainne Eckhart:
Q: Hi Lorhainne. Please give us a short introduction to what AND THEN SHE IS GONE is about.
LE: The moment Brady told his family he was engaged, his fiancée was nowhere to be found.
Brady is the newest member of the O'Connell family sharing the same father as his siblings, but a different mother. Not only do the O'Connells attract mystery and intrigue they are known for their strong family ties, and he's been quickly taken under the wings of older brothers and two sisters and the story begins with his 19th birthday and getting the loyalty lowdown from his older brothers and what it means to be their brother. Even though being absorbed into the O'Connell family was a difficult transition for Brady it came at a cost. Now Brady is doing his best to stand on his own two feet and has met a waitress, Cassie Arnold and he's fallen in love and asks her to marry him, only when he comes home one night, she's gone. Brady is out of his mind with worry and turns to his brothers for help, only what they uncover is a tangled web and a lot of secrets that unfold that he learns that his family is not the only one with secrets that must be kept.
Q: Who are the O'Connells and what makes them tick?
LE: I love all the O'Connell characters, and Brady is the newest addition to the family, having not grown up with them but only learning he had sibling a year earlier. Sheriff Marcus O'Connell his older brother is the ultimate bad boy who got his shit together, and even though he's done bad things, skirting or breaking the law but not getting caught, he wishes he could go back and undo the things he did in his youth. He is all about family first, standing up for what he believes in, and no matter what, he has his siblings' backs and teaches Brady, family looks after family.
All the O'Connell siblings have had to overcome so much. Their dad left them, leaving their mother to fend for herself and her six children. Each of the O'Connells was walking trouble in his or her own way, and Brady is just learning that his family, his siblings have many secrets he still doesn't know.

Q: AND THEN SHE WAS GONE is part of the O'Connell series. Can it be read as a standalone? How does it tie in with the other books in the series?
LE: Even though I write series, every book in the series can be read as a standalone. Each focuses on a member of the O'Connell family. There's Ryan, a park ranger; Owen, the eldest, now a plumber, who had to keep an eye on his younger siblings and gave up his teenage years to step in and be a father figure; Luke, who is in the special forces; Suzanne, who fought to be one of the only female firefighters in the town; and Karen, a lawyer, who was closest with their dad and took his mysterious disappearance the hardest. Then there's their mother, Iris, who had to raise them alone after their father left. And then Brady whom no-one knew existed until a year ago, when Raymond O'Connell returned with a grown son in two. Each book focuses on one sibling's story and search for love, touching on what he or she has struggled with. Each also delves deeper into their father's disappearance. The tight-knit O'Connells put family first. They're very flawed, but when push comes to shove, they protect their own.
Q: You have a knack for mixing suspense and romance—why do you take this approach?
LE: One of the things I do is write the kinds of books I like to read, and I love reading books that mix suspense, mystery, and romance, not falling neatly into any one category. There's something satisfying about writing unpredictable stories that keep readers on the edges of their seats, where characters find themselves on the dark and dangerous side of love, with all kinds of hidden secrets, lies, and deceptions. You wonder whether they can overcome that mix of dangers to find the perfect partner. It doesn't always work out, and more often than not, my stories end happily for now, not happily ever after. Even with my contemporary romances, danger is an underlying theme that runs through all my books.
Q: What are you working on right now?
LE: I am currently writing The Stalker: Dark secrets are resurrected in this new O'Connell novel, which releases November 30. This book is Alison's story. Alison is the teenage misfit that you met in the first book of the O'Connells, The Neighbor. She is Jenny and Ryan's daughter, the teenage daughter that Ryan didn't know he had until Jenny returned to Livingston with a teenage misfit and walking trouble in tow. I really love Alison's character she really believes she will always be an outcast and never fit it. Like all my the books in the O'Connells it focuses around one character but the entire O'Connell family plays a role in this book.
Here is the blurb to The Stalker:
Alison Sweetgrass-O'Connell believes she's forever a misfit and will never fit in.
After struggling to recover from a teenage crush that dealt her a crippling blow, Alison watches from the sidelines in the small town of Livingston, Montana, which hasn't been friendly to her. Silently, she believes everyone's seemingly perfect lives have a dark side. And soon her beliefs prove true.
Alison meets young, attractive med student Bennett Warren, new to Livingston. Suddenly, Bennett is showing up everywhere she is—and then, in her good fortune, he turns out to have rented the apartment right next door.
At first, she's convinced it's fate, and maybe there is hope for her, but a suspicious turn of events has her fearing she's being stalked by someone who knows one of her secrets, something no one should know.
She tries telling herself she's imagining things, but she soon realizes someone has been inside her apartment, going through her very personal belongings. She finds herself looking over her shoulder, not knowing who she can trust. When she confides in Bennett, she's convinced he thinks she's crazy, too.
Then Alison comes across evidence that has her questioning not only her sanity but also the real reason Bennett showed up in Livingston—and even more disturbing is the possibility that him moving right next door to her wasn't entirely coincidental.

Q:  Where can our readers discover more of your work or interact with you?
Sign-up for Lorhainne's Newsletter & Monday Blog
Lorhainne's Audiobooks on Audible