Karla Gracey – Delightful Feel Good Stories
Delightful feel good stories filled with wonderful characters who go on wonderful adventures filled with love, hope and suspense.
Your heart will fill with joy and hope as you read the adventures the characters take to find true love and happiness.
Get your copies below!
Mail Order Bride – A Bride for Carlton
FREE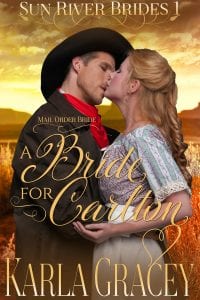 Why would an accomplished governess respond to an advertisement in the Matrimonial Times? Myra Gilbert had never considered such a thing, but something has awoken within her and she is determined to take her chance on love.
Carlton Green claimed his lands, and now has the deeds in his grasp. But something is missing in his life. Will his quest to find love fill that hole, or is there something from his past that could change everything and leave him with nothing?

Mail Order Bride – A Bride for Mackenzie
FREE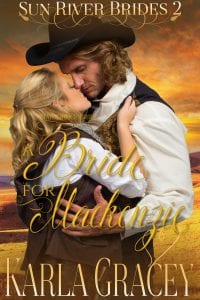 Annie Cahill has had a tough life, forced to leave home and work from an early age to support her sick Mama and younger siblings. Always the one everybody else could rely on she decides to finally reach out to take something for herself. But will she find the courage to see it through.
Mackenzie Stott spends his life surrounded by cattle, and loves the peace and solitude his life in Montana offers. But he has a past and isn't sure he will ever find anyone who can see past it. Can he finally find the peace inside himself and finally open up to love?

Mail Order Bride – A Bride for Ethan
FREE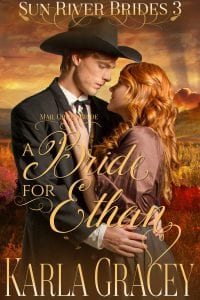 Maggie Smith left her home and family behind her to forge a successful career. But she is beginning to wonder if it truly was worth all the sacrifices she has made. But her desire for a family and loving partner may be a challenge to far. Has she already had everything she dreamed of, and foolishly pushed it away?
Ethan Cahill has spent most of his adult years alone, wandering wherever he could find work. His family's newly found luck has given him the stability he once craved. But is it enough? Can he truly find a way to settle after all these years, and can he ever let go of his past?

Mail Order Bride – Bryony's Destiny
$0.99
Or read FREE with Kindle Unlimited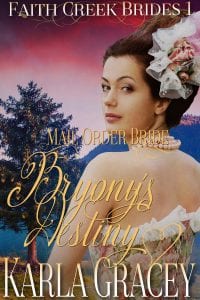 Bryony Shaw has never before thought of leaving Baltimore and her safe place in service, but things change for her when she is forced to become the Nanny of her employers son, Edwin. Finally finding the courage of her convictions, she confronts them about their lack of care. An orphan herself, she knows the pain of feeling abandoned and cannot bear the thought of such a young boy feeling that way too. But what follows, nobody would ever have expected.
Cody Jenkins has always taken his chances, never shying away from things when they get too tough. But his determination has led him to put off many things that every man needs. Secretly he longs for a family, and especially a wife to love, and be loved by. He so nearly had it all, all those years ago, but when it all went wrong he ran away and nursed his wounds alone. Will he ever let anyone in close enough again?

Read FREE with Kindle Unlimited
Mail Order Bride Amelia
$0.99
Or read FREE with Kindle Unlimited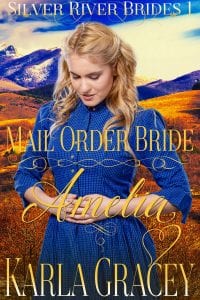 Amelia Llewellyn had a wonderful childhood, but when she lost her beloved Mama to illness as a girl her life changed beyond recognition. All but bringing up her half brother while her Papa and his new bride travel, she wants so much more for her life than she now has. But how can she change her life, and will she have the courage to follow through with her plans?
Meet Byron Gilbert who tried to stake a claim to some land and was unable to keep it running, but fell in love with the rugged landscape and Silver River. Bad guys need to be beware, because he is a Sheriff with brains and determination, and always gets his man. But will he ever be able to let himself accept the love he so desperately desires?

Read FREE with Kindle Unlimited
Mail Order Bride – Catherine Finds Love
$0.99
Or read FREE with Kindle Unlimited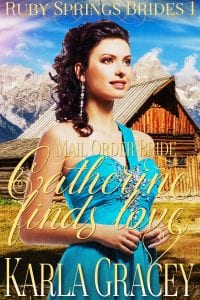 Catherine Pinkiss is a chambermaid. Her employers are ungrateful and expect too much of all their employees. Knowing that only she can change her life, she takes her chance and replies to an advertisement in the Matrimonial Times. She knows she could be risking her very life, but when a handsome man arrives on her doorstep will she regret the actions she has taken?
Dylan Jones believes that love will never find him again. Left alone to bring up his son after the tragic loss of his first wife he knows that happiness is fleeting. He knows he has already been blessed, growing up to wealth and privilege and having found the one woman who could make his heart sing. But Kyle needs a mother, and he needs companionship as he tries to build a new life away from everything he once knew. He is not looking for anything more, but will he find out that sometimes we don't get quite what we might think we are looking for?

Read FREE with Kindle Unlimited
About the Author: Karla Gracey was born with a very creative imagination and a love for creating stories that will inspire and warm people's hearts. She has always been attracted to historical romance including mail order bride stories with strong willed women. Her characters are easy to relate to and you feel as if you know them personally. Whether you enjoy action, adventure, romance, mystery, suspense or drama- she makes sure there is something for everyone in her historical romance stories!
Contact Links: