Grayslake: More than Mated, Kindle Worlds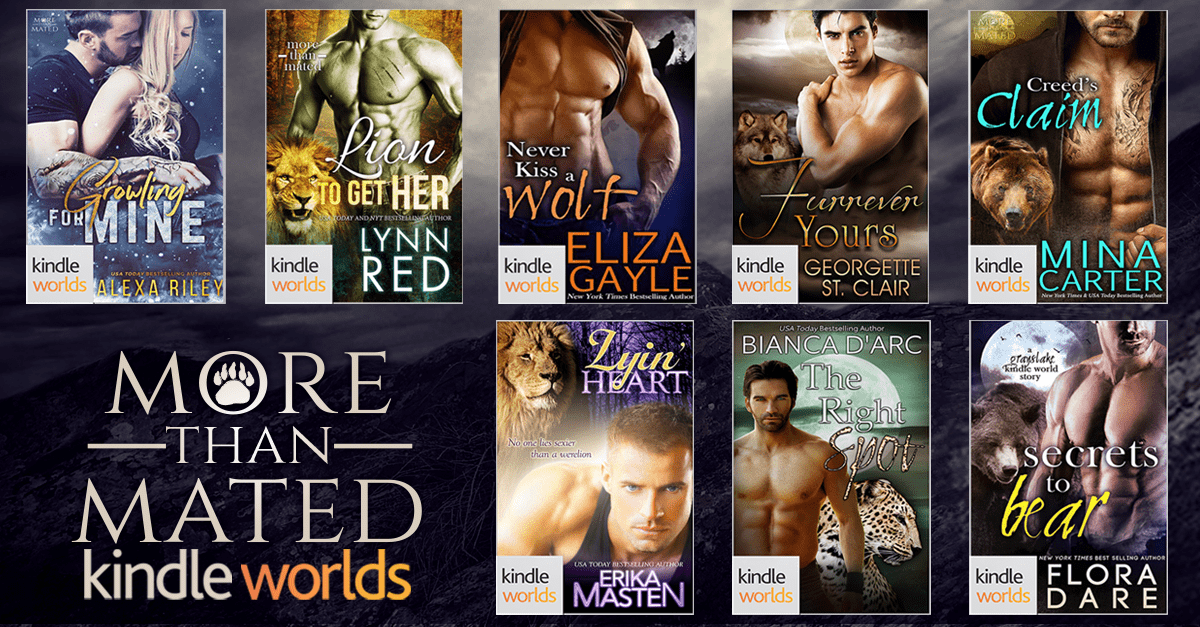 Secrets to Bear
by Flora Dare
$1.99
He's her hot one-night stand. She's his fated mate. And there's one person determined to keep them apart.
Lira just needs room to breathe. Somewhere away from her small town, their prying eyes, and their intense focus now that her cheating ex… is really her ex. For good. What better place to get away than a dive bar two towns over? And if she happens to meet her next one-night stand in all of his muscular, lickable glory… all the better.
Werebear Jake just wanted a drink. What he got was an armful of luscious mate. For one night. Then life–and his persnickety grandmother–interfere. He has to get his family to Grayslake, Georgia (the werebear town) and then he'll focus on finding his missing mate. Unless she finds him first.
Jake has Lira, but can he keep her? Lira's ex refuses to let her go and Jake's bear… refuses to let him live.
Creed's Claim
Mina Carter
$1.99
Tall, dark and handsome, she's watched him from afar for years…
Back in Lizard Lick after a broken engagement, Kaitlyn Turner has two things on her mind: regaining her independence and having a good night out with her bestie. Only somehow, their celebrations include hitting up the local tattoo parlour. The Tattoo parlour run by Creed, her late brothers best friend. Hot as Hades, he's the one man she knows she can't have, but the one she'd kill to have look at her as more than a kid sister.
Petite, curvy, beautiful…and human. She's everything he wants, and everything he can't have.
Werebear Creed is a loner in the Lizard Lick pack. Tall, powerfully built, and mean as hell, he holds rank as an enforcer despite the fact his bear prefers to stay well hidden. No matter, he can enforce pack rules in human form… even against fully shifted bears. They might call him a half-skin but no one wants to piss him off. Ever.
He doesn't care what they think. Until Kaitlyn Turner walks back into town. He's wanted her for years, but she's human and he's a bear. No can do. But then an attack brings her over into his world and the path is clear.
She's always been his…now he'll claim her. Even if he has to fight the whole pack to do so…
Lion To Get Her
by Lynn Red
$1.99
Who the hell has time for love? Lion-shifting Laney Langston, Redby Township's assistant librarian, sure doesn't. Between juggling book clubs, story time for the town's cubs, and her increasingly neurotic best friend, she's got just about all she can handle.
The last thing she needs is more drama in her life, but when a half-naked lion is found asleep in the library she feels stirring in places she'd really rather not stir in a public library.
Rip Black is one big, bad lion who is sick of the spotlight. Once he was a firebrand who fought endlessly for shifter rights, but lately this muscled-up alpha is just looking for somewhere to hide. As luck—or fate—would have it, he chose the "S" section of the Redby Public Library to take a nap.
When he wakes up with one supremely irritated Laney hovering above him, Rip realizes in the blink of an eye that everything he's ever wanted is right here in Redby… and he ain't gonna stop until he gets EXACTLY what he wants.
***This sexy, steamy, hilarious lion-shifter romance is the crossover between Jamesburg and Grayslake that you've always wanted…and now it's gonna make you ROAR!***
The Right Spot
Bianca D'Arc
$1.99
A
man seeking solitude…
When an Argentinean-born, ex-soldier of fortune finds his nearest neighbors in a domestic dispute where the female is being beaten, he has no choice but to step in and do something. Finding two bear shifters living next door to his rental, Mario subdues the male, but the female is hysterical. Left with no choice, he has to call the cops.
A woman in uniform…
Grayslake police officer Patty Montone answers the call, never expecting to find her little sister in the role of abused girlfriend. Patty's dominant bear sees red, but she has a duty to look after her sister before Patty can go back and kill the boyfriend. And then there's the sexy neighbor, who scents like some kind of big cat. A very dominant, intriguing big cat shifter, in a bear town.
A match made in danger…
Mario sets out to court the dominant female who stirs his heart…and other things, but danger stalks her family and only Mario has the connections, and the skills, to set things right. When foreign thugs arrive in Grayslake, Mario sets up a cunning plan to solve the problem—with Patty by his side, and hopefully, in his bed.
Mario's inner jaguar wants to keep the sultry bear shifter for his own. Is it possible he's found his mate in the sexiest, strongest and most alluring woman he's ever met? And can she possibly feel the same? Through bullets and blood, he vows to find out.
Never Kiss A Wolf
Eliza Gayle
$1.99
Following a lead south to find a missing female shifter, Greer and Calder land in the middle of bear country. Grayslake, Georgia to be exact. Everything there seems innocent enough until their questions begin to ruffle fur and their oddball waitress at the local diner has a meltdown. Leaving Greer covered in an order of chili cheese fries and obsessed with one curvy, but clearly unstable woman.
Lily Hale moved to the small southern town to get as far away from her bleak, Alaskan backwoods family as she could. All she wants is a little color in her life and a taste of freedom. Getting involved with a wolf shifter seems like the last thing she should do.

 Except she kissed him and now he won't go away. She also can't shake the feeling her life is about to implode.
Is Greer the kind of man who'd stand up to her family of savage werebears and protect her? Of maybe she can become the woman who stands on her own.
Growling For Mine
Alexa Riley
$1.99
Bleu
has been living an isolated life away from the clan of Grayslake. He's a happy bear shifter, building furniture and being alone…until a little curvy woman literally crashes into his life. When he pulls her from her car after she wraps it around a tree, he is blindsided by the connection. Never before has he wanted a mate, but finding Lola changes all that.
Lola didn't plan on her deadbeat mom blowing the rent and then skipping town, so she's without a home. Again. But this time it's going to be different. Hearing whispers of shifters in Grayslake, she takes off in search of something, anything, that can bring some light to her life. When her car slips and she ends up in danger, she never expects her rescuer to be the one to give her everything she's ever wanted.
Will being snowed in lead to steamy nights and mating bites? You betcha!
Warning: This is a short shifter story filled with sweet cheesy possessiveness and lots of growling. Obviously. Go ahead and read it. You know you want to!
Furrever Yours
Georgette St. Clair
$1.99
Nurse's aide Heather Appleby thought she'd seen it all on her late-night shift at Grayslake Memorial Hospital. Nailgun accidents. Sex romps gone wrong. People inserting things in unspeakable places. Then one night, a battered, unconscious girl is carried into the E.R. – and turns into a wolf right in front of Heather. Next thing she knows, Knox Carlson, the sexy, growly beast of a deputy who's always ignored her, is sniffing around – and staking his claim on the curvy human.
Knox Carlson is an Alpha werewolf, and the first time he scented Heather, he knew she was his with a capital H,I,S. But she's human, so their mating can never be – until he's called in to investigate the disappearance of a wolf shifter female who's run out on her arranged marriage. Now that Heather has learned the secret of shifters, he'll have to claim her as his own or let her be put down – and he'll take on every shifter in Georgia before he lets that happen.
Lyin' Heart
Erika Masten
$1.99
No one lies sexier than a werelion.
Werecats are the most seductive and deceptive of all shifters. They can lie with the best of them, even to themselves. Even to their own hearts.
Curvy wildcat Ellie Lowe is lying to a whole town of werebears—and even to herself—trying to convince them she can manage a rundown B&B and raise her half-wildcat, half-werebear son just fine all by herself. She can even pretend she doesn't find the new werelion in town, Aubrey Drummond, as sexy as sin itself. If she can't keep up the front, the bear clan that claims Grayslake, Georgia as their territory might also claim the right to take Ellie's son.
Aubrey Dreyer, aka Drummond, has been lying all his life, professionally, first as a double agent in the special marshal's unit tasked with hunting the shifters and other supernaturals hiding among humans. Now he's intelligence for the alliance of cat shifter clans known as the Panthera. The enclave of fugitive cat shifters he's trying to convince the Grayslake bear clan to allow in their territory is really a safe house for werecat spies. If he doesn't let his respect for the bear clan leader and his growing attraction to Ellie Lowe get in the way, he just might pull it off.
But interspecies shifter politics and government intrigue have to take a backseat when Ellie's son goes missing. All bets are off, all pretenses come down, and Ellie and Aubrey must confront the truth about themselves if they are going to save the boy and any hope of the three becoming a family of their own.
Lyin' Heart is a BBW paranormal shapeshifter romance novella bringing together the worlds of USA Today bestseller Erika Masten's Panthera shifters (first appearing in the Aesir Shifters werewolf romances) and NYT bestseller Celia Kyle's Grayslake: More Than Mated shifter series.