Win A Free Ebook From NYT & USA Today Bestselling Author Donna Grant!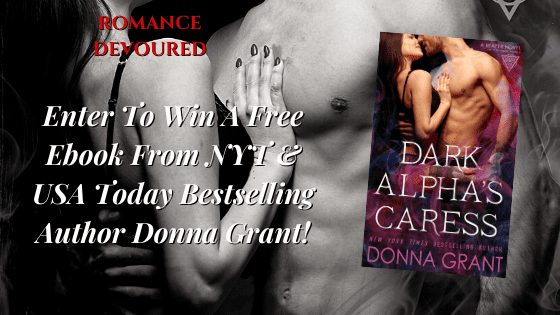 Click Here To Enter The Giveaway!
DARK ALPHA'S CARESS
(A Reaper Novel, Book 10)
by NYT & USA Today Bestselling Author Donna Grant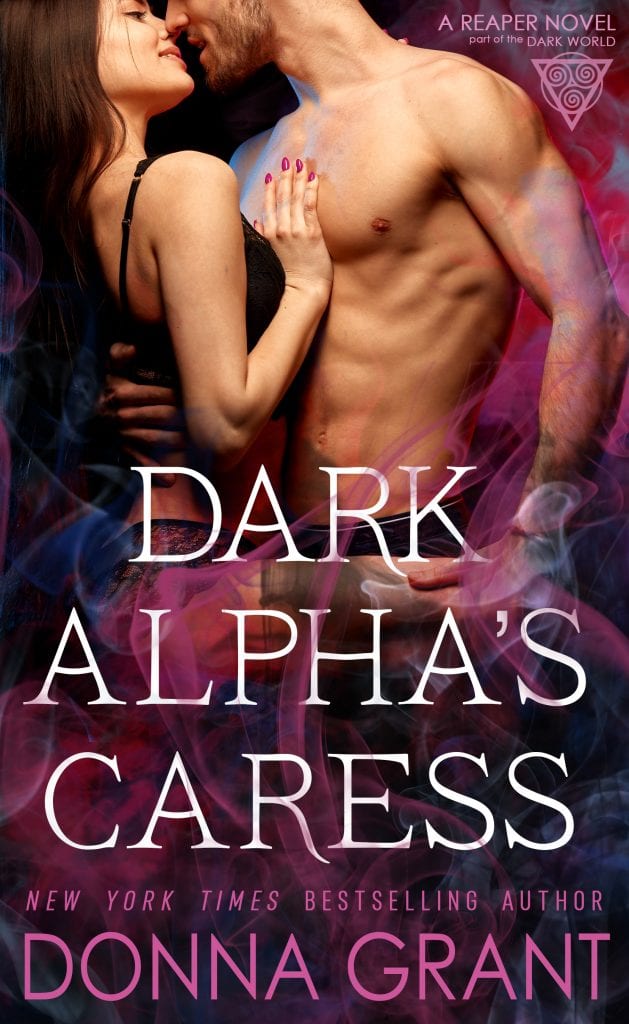 There is no escaping a Reaper. I am an elite assassin, part of a brotherhood that only answers to Death. And when Death says your time is up, I'm coming for you…
Reborn to serve, I have never once questioned Death's directives. Until my mission leads me to a Halfling who stirs things within me that I've never felt before. Sorcha's past intrigues me, but not as much as the gorgeous and stubborn Halfling herself. Though the Others are no more, our enemies still lurk around every corner. I can feel it. But for her, I will battle whatever comes my way—be it present dangers or ghosts of the past.
Get Your Copy Here:

Excerpt from Dark Alpha's Caress:
Sorcha picked up the pace. Now that she was off the cliffside, she felt she could move more quickly. It was a mistake. Within minutes, her foot slipped off a wet rock, and she twisted her ankle. She crumpled, grabbing her injury.
"Dammit," she said as her ankle began to throb.
Out of the corner of her eye, she spotted lightning not far from her. It hit the ground, causing a loud crack. Sorcha screamed and jumped. She had to get to the car and out of the storm. She wasn't safe here. But when she tried to put weight on her injured foot, her eyes welled up with tears.
She fell back onto her butt and slapped her hand on the ground beside her. How could this be happening? She knew better than to rush through terrain she didn't know, but to do it at twilight during a storm? It was a rookie mistake that she shouldn't have made.
Lightning flashed again, revealing the outline of a man about twenty meters below her. He stood as still as a statue as he faced her. She jumped for a second time, unsure what to do. Was it one of the men from the rally? Someone else?
The man moved slowly toward her before he stopped again. Another flash of lightning revealed his very tall silhouette and incredibly broad shoulders and thick arms showcased by his wet tee shirt that was now molded to his body. She couldn't see much of his face other than a strong jawline and penetrating eyes.
"You seem to be in need of assistance," he said.
She heard the Irish accent in his deep voice. He purposefully kept his distance so as not to scare her. The next flash of lightning had him looking up at the storm above them.
"I think we'd best get out of this weather, don't you?" he asked as he offered her his hand.
There was no way she could get down to her car without help. She had no choice but to trust him. "Yes," she said and took his proffered palm.
He easily lifted her into his arms, cradling her against him. Sorcha felt the movement of his muscles beneath her hands as she wrapped them around his neck. There was no denying the hard stomach against her. Or the softness of the long hair he had gathered at the back of his neck.
There was something about a man with long hair that just did it for her. Few could really pull it off, but she gave credit to those who tried.
Within moments, they were at the bottom of the mountain not far from where she'd hidden her car. She glanced back at the rugged terrain, trying to figure out how he'd come down it so quickly. Had she been so wrapped up in all the hard sinew against her that she hadn't paid attention? There was no other explanation.
"Where shall I take you?"
Her head snapped toward his. That's when she realized that she was very near his face. Unfortunately, she still couldn't get a good look at him. "Oh. Um…my car is parked over there," she said, pointing in the general direction.
He said nothing else as he strode to her vehicle. Once there, he gently set her down until she leaned against the car with her injured foot lifted.
"Thank you," she said.
He gave a nod. "You should be careful. These are dangerous times, and there are many more dangers out there."
She couldn't tell if he was threatening her or warning her, not that it mattered. She was well aware of what was out there. Sorcha pulled the key fob from her pants' pocket and unlocked the vehicle. "You're very right." She opened the car door. "Thank you a—"
But when she glanced up, he was gone. Sorcha didn't look for him. Instead, she got into the car and locked the doors before starting the engine.
______
Meet NYT & USA Today Bestselling Author Donna Grant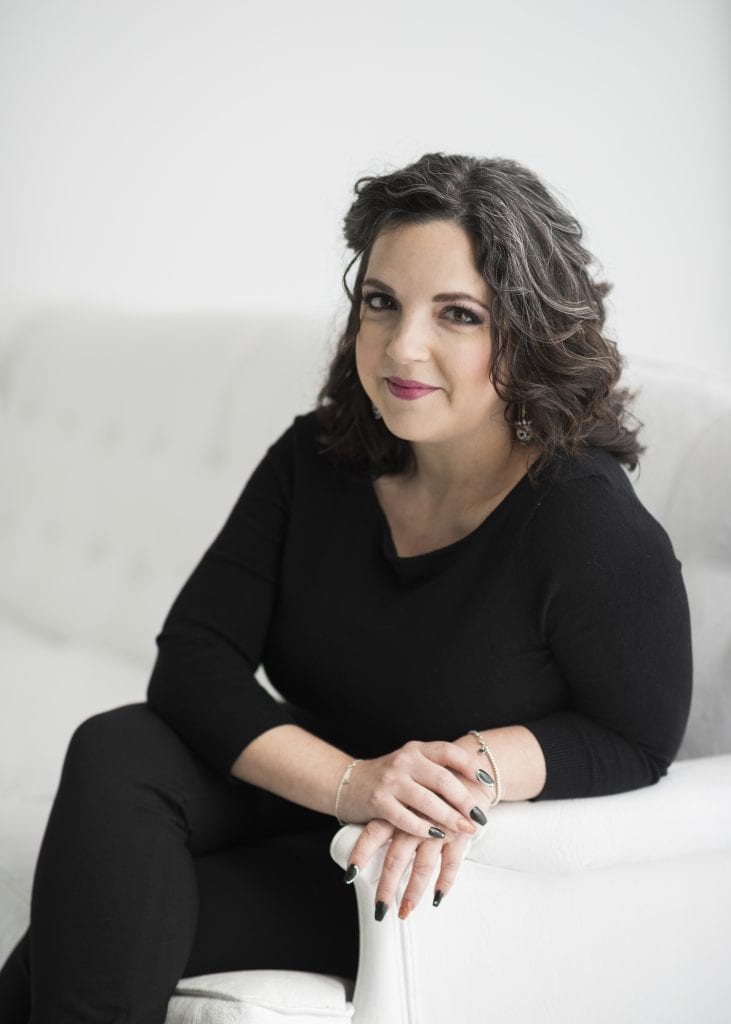 New York Times and USA Today bestselling author Donna Grant has been praised for her "totally addictive" and "unique and sensual" stories. Her latest acclaimed series, Dark Kings, features a thrilling combination of dragons, Fae, and immortal Highlanders who are dark, dangerous, and irresistible. She lives with her two children and an assortment of animals in Texas.
Visit Donna at www.DonnaGrant.com and www.MotherOfDragonsBooks.com
Interview with Donna Grant:
Q: Hi Donna. Tell us a little about yourself.
DG: I'm Donna Grant, the New York Times and USA Today bestselling author of over 100 romance books. I write in all genres of romance, but I'm most known for my PNR, especially the Dragon Kings series.
Q: Why romance? What drew you to the genre?
DG: My parents were huge readers, and there were all kinds of books in the house. I read many genres, but it wasn't until I was at my mother's office at work waiting to go to a dentist appointment when I was 12 yo that I picked up a romance novel once of her co-workers brought her to read. From then on, I was hooked. I still read other genres, but I always come back to romance. It's a place where the world can literally be falling apart, but you know by the end of the book, the hero and heroine will be together.
Q: For those who are new to your books, what is the story about?
DG: DARK ALPHA'S CARESS is part of the Reaper series, which is a group of Dark and Light Fae given second chances by Death. Death is the judge and jury, and the Reapers are the executioners – of Fae. They hold special powers beyond those of other Fae. They help Death keep the balance of good/evil in the Fae, fighting villains, and discovering Halfings (half-Fae, half-human) along the way.
In DARK ALPHA'S CARESS, the Reapers find a Halfling that is a Druid, something that is a rarity. They step in when Fae begin to come after her, and as the hero and heroine grow closer, they begin to uncover her past that puts them both in danger.
Q: Do you have any pets?
DG: With my son moving out to college and taking his cat, I'm now down to just my 80 lb mixed breed dog, Sisko. But I've never been without a cat, so I might be getting a kitten soon. Sisko was raised with cats, and he loves to cuddle with them.
Q: Where can our readers find you? (Social media, website, etc.)
DG: You can find me at:
www.DonnaGrant.com
www.MotherofDragonsBooks.com
Newsletter: https://dgrant.co/2nlMN9B
Facebook.com/AuthorDonnaGrant
Instagram.com/DGAuthor
Bookbub: http://bit.ly/2siVQKK
Amazon: http://amzn.to/2f8xeP0
Goodreads: http://bit.ly/2vinVCD
Youtube: https://dgrant.co/YouTu
Thank you, Donna!
Click Here To Enter The Giveaway!