Candy J Starr – Bad Boy Romance At Its Best
"This is an edgy story full of pent up pain. Two damaged souls helping the other heal. Great read, while they work out the issues perceived demons." Reviewer
"Wonderfully written story about life and love that tears at your heart strings while pulling you in for the ride. Bad boy romance at its best." Reviewer
To get in on the action with these Bad Boys then grab your copies below!
Bad Boy Rock Star: The Complete Story
$4.99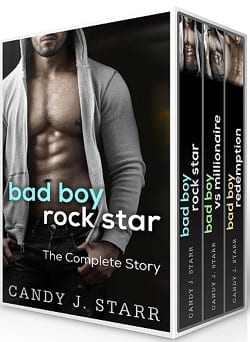 This three book collection includes the full Bad Boy Rock Star series. Come along for the full ride with hot rockers, secrets and sizzling romance.
Bad Boy Rock Star (book 1)
In my old life, I'd have not given Jack Colt a second look. Those muscular, alpha male types do nothing for me. But my father's disappeared, along with all our money, and not I have to make Jack Colt's band a success or starve in the streets. I need to focus and not let his raw sexuality and arrogant swagger mess with my head.
But this isn't some game – soon the threat that I fear the most becomes reality.
Jack Colt – he's arrogant and infuriating but he's the one that's there for me when my world comes crashing down. With secrets of his own, will Jack Colt save me or destroy me?
Bad Boy vs Millionaire (book 2)
Jack Colt's back, and now he has a rival.
After fleeing to Tokyo to meet my father, and escape Jack Colt's betrayal, I discover Dad is hell bent on marrying me to the rich and good looking Tamaki. Tamaki is everything Jack isn't and, with our similar backgrounds, we form a bond. He offers me safety and security as well as a return to my luxurious lifestyle, but the passion Jack arouses in me won't be denied.
Can I forgive Jack or should I take the sanctuary Tamaki offers?
Bad Boy Redemption (book 3)
Life seems sweet. Finally, Jack and I are together and Jack's band, Storm, have been signed to a major label after completing a successful tour.
Then tragedy hits the band, sending Jack off the rails. I wants him to make peace with the demons from his past but he refuses to take action. Meanwhile, I have problems of her own when my father's crimes are exposed, and are much worse than I ever expected.
Are we damned beyond repair or can our love redeem us?

Click here for all other available retailers >>
Rock You (Fallen Star book 1)
FREE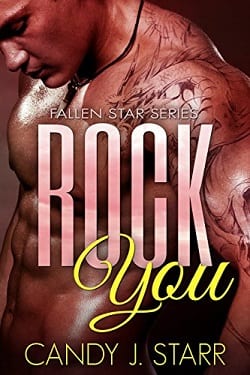 Working for a cranky, old hermit in an isolated house sounds like Ruby's idea of heaven – but her boss isn't quite what she expects. Tex is a fugitive from the rock and roll world – a tragedy abruptly halted his career. No one knows why he quit, no one knows where he is.
The two of them live in the same house, avoiding each other, until Tex screws up, endangering their lives and forcing them to move into close quarters. Suddenly, the idea of human contact seems more appealing, if only with each other. The sanctuary they have built is enough for Ruby — the man she grows to love is Tex the hermit, not Tex the rock star — but the outside world encroaches.
She thinks their fledgling love can't shine brighter than the rock dream but can Ruby bear to let Tex go?

Click here for all other available retailers >>
Bad for You (Fallen Star)
$3.99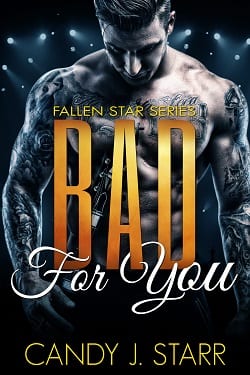 I'd loved Devon forever, from the front row of his concerts. So, when fate gives me the chance to be his fake girlfriend for three months, I know I can make that relationship real. As I get to know Devon though, I realise how big the gap is between his image and reality. I love Devon the rock star, but can I love Devon the man?
I was in love with a ghost, the memory of a lost love. Julie. When she died, my heart was buried with her. Since then, I've had sex with a lot of woman but they're gone before the condom comes off. Now my dirt bag manager has the stupidest idea ever: a fake girlfriend to save my reputation. I'll play along to keep my fans happy but this fake girlfriend drives me insane!
If you like fake girlfriend romances, dirty rockers and stories of redemption, you'll love Bad for You.
While this is book 4 in the Fallen Star series, it can be read as a standalone.

Click here for all other available retailers >>
Too Many Rock Stars (Access All Areas)
FREE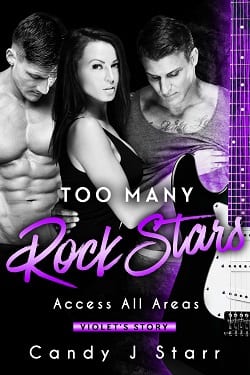 I don't date rock stars and, since I work at a club surrounded by nothing but rockers, that means I don't date at all. I didn't ask to get stuck in a crazy love triangle — and I sure as hell didn't put myself up as a prize in a rock competition — but, when it becomes the only way to save the club, I can't say no.
Now, everybody I know is either on Team Razer, supporting the local rock god, or Team Alex, lusting after the mysterious newcomer in tight leather pants.
No matter how this competition ends, I'll have to date one of them! That's the trouble with my life: too many rock stars!
If you like love triangles, dirty rockers and angsty drama, you'll love Too Many Rock Stars.

Click here for all other available retailers >>
Rock Revenge (Access All Areas book 4)
$3.99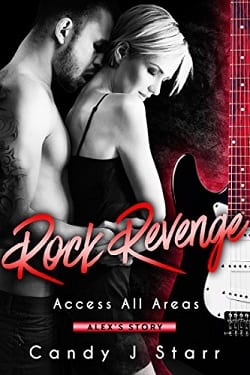 I'm not a vengeful person but there are some things in this world you can't forgive.
I'd spent my teen years crushing on Alex Dressner, my brother's best friend. Their band was destined for glory and I was destined for Alex. Then a horrific car crash turned my love to hate. My brother died and Alex walked away without facing any consequences. While hate seethed in my heart, he moved to a new town and formed a new band.
Now I've hit town and have Alex Dressner in my sights. I'll never forgive him, I'll never let him forget – but can love be that easily buried?
If you like hot rockers, sizzling chemistry and dirty secrets, you'll love Rock Revenge.
This is book 4 in the Access All Areas series. Each book is a standalone novel .

Click here for all other available retailers >>
About the Author: Candy J Starr has filmed and interviewed some big names in the rock business, and a lot of small ones. She's seen the dirty secrets that go on back stage. She's seen the ugly side of rock and the very pretty one. But, of course, everything she writes is fiction.
Contact Links: