Win A $50 Amazon Gift Card + A $25 Starbucks Gift Card from Bestselling Author Katy Regnery!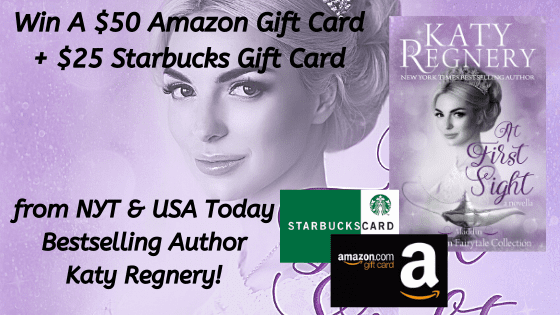 Click Here To Enter The Giveaway!
AT FIRST SIGHT
(A Modern Fairytale #7)
by NYT & USA Today Bestselling Author Katy Regnery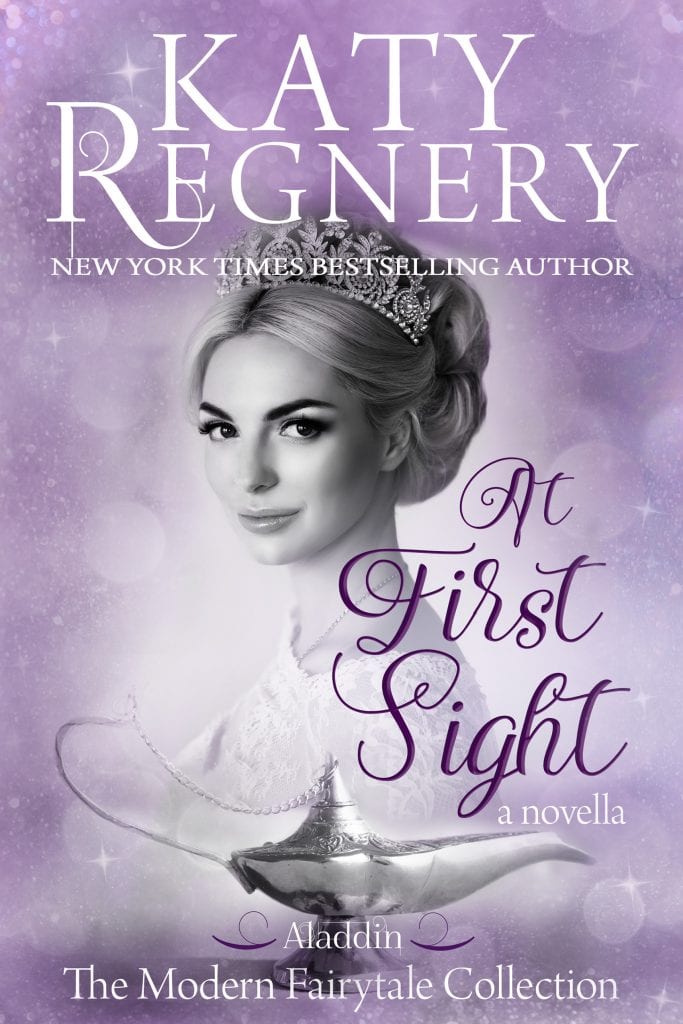 New York Times bestselling author Katy Regnery returns to her wildly-popular modern fairytale collection with a fresh spin on Aladdin!
I fell in love with her the first moment I saw her.
That's the truth.
Does it sound corny?
Maybe.
Superficial?
Probably.
Impossible?
Yeah. Yeah. Okay. I know.
The thing is?
I don't really care what you lot think.
I know what I know.
Love at first sight is possible.
I'm positive because I've lived it.
I am Ian Ladd,
a street rat from the back alleys of Limerick.
She is Valentina Yasmina De'Medici,
Her Serene Highness.
This is our story.
At First Sight is part of the ~a modern fairytale~ collection: contemporary, standalone romances inspired by beloved fairy tales.
The Vixen and the Vet (Beauty & the Beast)
Never Let You Go (Hansel & Gretel)
Ginger's Heart (Little Red Riding Hood)
Dark Sexy Knight (Camelot)
Don't Speak (The Little Mermaid)
Shear Heaven (Rapunzel)
At First Sight (Aladdin)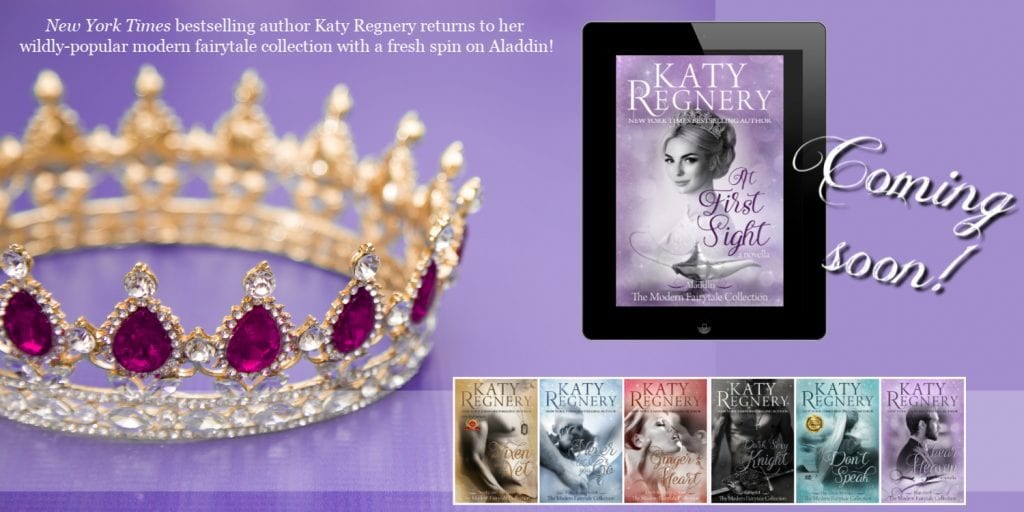 Meet NYT & USA Today Bestselling Author Katy Regnery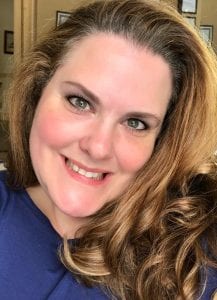 New York Times and USA Today bestselling author Katy Regnery started her writing career by enrolling in a short story class in January 2012. One year later, she signed her first contract, and Katy's first novel was published in September 2013.
Several dozen books and three RITA® nominations later, Katy claims authorship of the multititled Blueberry Lane series, the A Modern Fairytale collection, the Summerhaven series, the Odds Are Good collection, the Arranged duo, and several other stand-alone romances, including the critically- acclaimed mainstream fiction novel Unloved, a love story.
Katy's books are available in English, French, German, Hebrew, Italian, Polish, Portuguese, and Turkish.
Check out Katy's Website: http://www.katyregnery.com
Sign up for Katy's newsletter today: http://eepurl.com/disKlD
Interview with Katy Regnery:
Q: What is your favorite romance trope and why?
KR:  My all-time romance trope is fairytale-inspired contemporary romance retellings. To date, I've written eight of them, including my new release, AT FIRST SIGHT, inspired by "Aladdin." The first I ever wrote was THE VIXEN AND THE VET, inspired by "Beauty and the Beast," which was nominated for a RITA® and remains a fan-favorite. I think everyone woman secretly likes to imagine that she could win over a beast! Plus, that library? Yes! Sign me up!
Q: For those who are new to your books, what is the story about?
KR:  AT FIRST SIGHT tells the story of Ian Ladd (an anagram of Aladdin!), a Limerick "street rat," who meets Her Serene Highness Princess Valentina Yasmina De'Medici when she joins her parents for a European tour, including a visit to Ireland. The two spend an intimate, memorable night together in Limerick which, sadly, ends in tragedy. Fifteen years later, they are reunited by chance in Brooklyn, NY, where they must decide if their connection is worth a second chance. The structure of the story will be really familiar to those readers who recall the 1992 Disney cartoon version of "Aladdin," which was my inspiration for the book.
Q: Tell us about your heroine. What inspired her quirks and struggles?
KR:  Valentina is an Italian princess who has so many demands placed on her shoulders from a young age, but just wants to be herself (not unlike a certain fairytale princess from Agrabah, eh?) Running off with this incredibly hot, Irish ruffian for a night is against everything her parents expect of her, and yet it's the most free she's ever been. However, when she and Ian are separated for reasons beyond her control and never adequately explained to her, she is hard on herself, feeling used and forgotten. It shapes the way she looks at romantic relationships over the ensuing years and makes it difficult to Ian to win her back when he finds her again.
Q: Tell us about your hero. What motivates him?
KR:  Oh, Ian. He's got such a good heart, but his luck, from the cradle, has been shite. His mother was born into the Keegan-Clancy gang, and he's runner before his twelfth birthday. After his mother dies of an overdose, he's raised by his cruel cousin, Jarlath, who regularly beats Ian and his brother, Albie. When he meets Valentina, she's so beautiful, so fine in his eyes, he can barely believe she's real. And even though something terrible happens, separating them for fifteen years, he can't let go of the memory of his princess. His heart holds out hope that they'll meet again someday; that he'll have a second chance with her. Ian loves long, hard and blindly; it's heartbreaking and profoundly touching at once because such a rough beginning should have insured no room for hope in his heart.
Q: Name a few of your favorite authors or books.
KR:  I have a ton of favorite books, but here are the first ten on my Kindle, all of which I've either read or re-read recently:
KYLAND (Mia Sheridan), THE BILLIONAIRE'S WAKE UP CALL GIRL (Annika Martin), MISTS OF THE SERENGETI (Leylah Attar), BRING DOWN THE STARS (Emma Scott), WHERE THE LOST WANDER (Amy Harmon), DARKER WATER (Lauren Stewart), FIX HER UP (Carey Heywood), DREAMING OF YOU (Lisa Kleypas), BET ME (Jennifer Crusie), BAD ROMEO (Leisa Rayven)
Q: Where can our readers find you? (Social media, website, etc.)
Katy's Website
Facebook: Katy Regnery, Romance Author Katy Regnery and my private group, Katy's Ladies
Instagram
Amazon
Bookbub
Thank you, Katy!